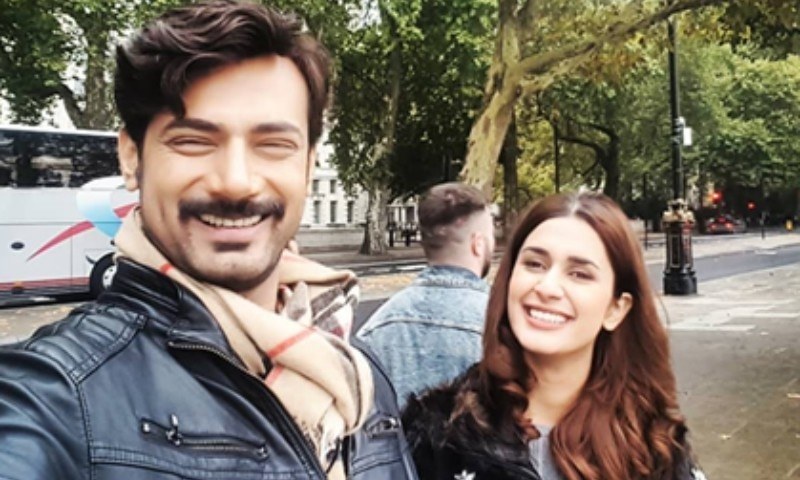 Kubra Khan has joined in the cast and her scenes with Zahid Ahmed were the highlight of the plays latest episode.
Things have been getting very interesting in Daldal ever since Shuja played wonderfully by Zahid Ahmed decided to enter the UK as a illegal immigrant. Every week we are getting a chance to see the harsh reality illegal immigrants face. They are reduced to be either sweepers or waiters despite being well educated. So a Thursday favourite of ours and a drama we never miss, this week the episode had a lot going on which kept us glued to our screens till the end.
Qaisera Hayat's as a writer has given us not just Dalal but also Alif Allah aur Insaan, so naturally we are big fans of her. The beauty of Daldal lies in the fact that she has penned down characters which are so well planned out that you immediately develop a fondness for them. Their joys and sorrows become your interest too as we saw with poor Hira (Armeena Khan) having had enough of living without Shuja and wanting to work so she could escape her loneliness.
Read : Daldal episode 16 review: What is next for Shuja and Kamran and their lives?
However her mother in law (Asma Abbas) has been against her stepping out of the house. We are glad that finally Hira is speaking out. She is no longer the docile girl which Shuja married and will not take orders from her mother in law. Her mother in law is having a hard time adjusting to this change in behavior.
Meanwhile Shuja, met a British Indian Punjabi girl Preet (Kubra Khan) who is a young widow and ultra rich with eyes set on him. Now despite Shuja being many things he is not unfaithful. Hira is however pressurizing him to work something out in terms of his residential status so she could join him in the UK. It is a paradoxical situation for Shuja, would it be wise to marry Preet and attain legal status or should he wait to see if there is any other way.
Now in the past we have always seen Shuja be not that loving towards Hira but ever since he came to the UK he has grown soft and speaks to her with a lot of love and respect as never in his wildest dreams did he thought that life would become so tough.
Read: Kubra Khan joins the cast of Daldal for a cameo appearance
If we talk about the performances and actors then we love the inclusion of Kubra Khan in the play as her character is funny yet emotional and her scenes with Zahid Ahmed were so on point that they were a delight to see. With a brilliant on screen chemistry we do hope that the duo sign another play together really soon.
So still on our must watch list, don't forget to tune in every Thursday at 8 pm only on Hum TV to see what life has in store for Shuja, Hira and now Preet in the fantastically written and directed play Daldal..