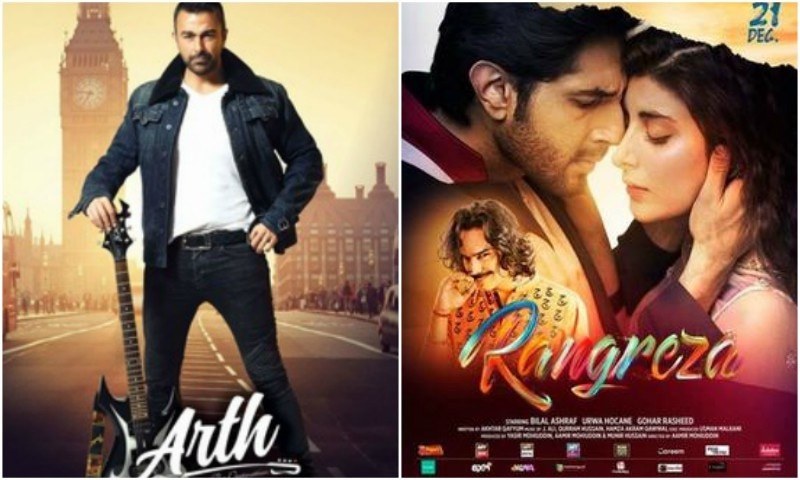 If figures are to be believed, both films did an abysmal job in cinemas not only in Pakistan but internationally as well
The 21st of December 2017 saw the release of two of the most awaited and anticipated films in Pakistan. While Shaan Shahid's Arth- The Destination had a high production values and boasted of Oscar winner colorists, Gohar Rasheed, Urwa Hocane and Bilal Ashraf starrer Rangreza delivered the true Pakistani flavor, depicting the typical musical gharanas in the country. But it seems, both the films, even releasing on the holiday weekend have failed to make a significant impact on the box office.
According to numbers released by Box Office Details both films have slumped at the box office despite have the advantage of a long weekend. Five solid days into the release, including the Christmas and Quaid's Birthday holiday on Monday, Arth and Rangreza both have fared below the 2cr mark as yet.
Hip Reviews: Watch Arth for its music, star power & visual appeal
The figure break down for Rangreza's release worldwide is as follows,
Pakistan.. 1 cr
UK.. 63 lacs
UAE.. 6.3 lacs
North America.. 8.25 lacs
Australia.. 91000
Total.. 1.78cr
Figures for Shaan Shahid's Arth worldwide:
Pakistan (estimates).. 1.15 cr
UK.. 12.75 lacs
North America (Till Saturday).. 1.85 lacs
Australia.. 2.75lacs
Total.. 1.32 cr
If figures are to be believed, than both films have done an abysmal job in cinemas not only in Pakistan but around the world as well. Where one Pakistani movie shattered records this year, two major releases have slumped after major weekend release in the country.
HIP Reviews: Rangreza is unequivocally Waseem Wallay's Sultanat
Even though Arth and Rangreza are in the first week of their running, it seems like the fate of the films has been decided by the audience already. Pakistan awaits another release of Ahsan Khan starrer Chupan Chupai before we close the year down. Let's see how this one manages to perform at the box office.