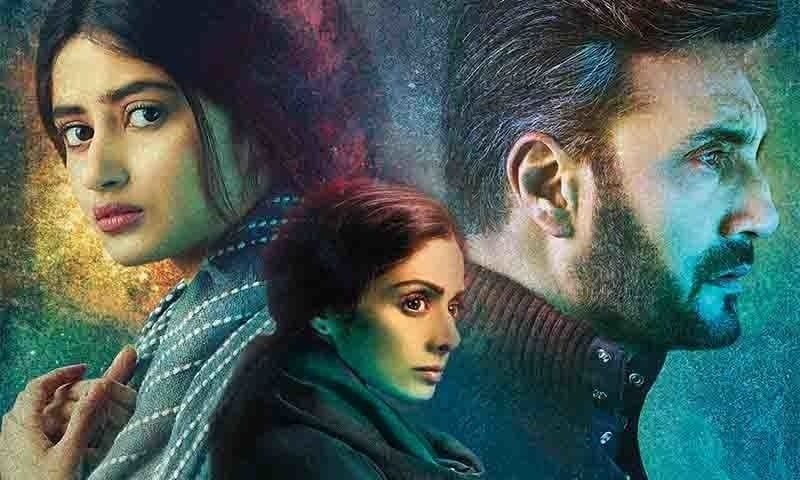 The Bollywood film Mom had everyone rooting for our very own Adnan Siddiqui and Sajal Aly. The film marked both Adnan's and Sajal's debut across the border where they starred in important characters alongside the beautiful Sridevi and Nawazuddin Siddiqui.
Things must have been difficult for our actors to shoot their part for Mom after the Uri attack and the ban on Pakistani artists in India but still the two completed their parts and Mom opened to rave reviews for both Sajal and Adnan alongside Sri Devi, the main protagonist.
And so Sridevi's win as best actress doesn't really come off as a surprise. But what is even more pleasant is the fact that the lady did not forget to mention her co-stars Sajal and Adnan during the acceptance speech at the award ceremony.
Had the rivalry between actors stuck, co-stars from Pakistan would have been sidelined but Sridevi when called up on stage to accept the best actress award for Mom at the Zee Cine Awards did not forget to mention the two.
"I would like to thank the entire cast and crew of the movie. Nawazuddin ji, Akshaye, Adnan Siddiqui ji, Sajal, my child, I love you and I miss you too."
Read : Sridevi's heartfelt message to Sajal Aly plays at 'Mom' premiere
Sajal shared the video up on her Instagram and congratulated the star mentioning how much she loved her too.
The two actors formed a close bond on the set of this movie especially when Sajal's mother passed away last year. It was also during the shooting that Sajal had discovered the fact that her mother had been diagnosed with cancer.
According to a Indian newspaper, Sridevi never gets involved with her co actors but with Sajal her equation is entirely different as the source close to the filmstar revealed so.
"Sajal was very close to her mother, who she lost recently. It shattered the young girl. Sri took Sajal under her wings after that tragedy and treated her like her own. After the tragedy, Sajal called Sri from her hometown in Pakistan and broke down, saying the whole experience was too close to her to be treated just as a film," stated the newspaper.
With the year having just begun lets see what the future has in store for India and Pakistan as we would love to see Sajal Aly and Sridevi create magic once again on the big screen, as we are sure you would too.