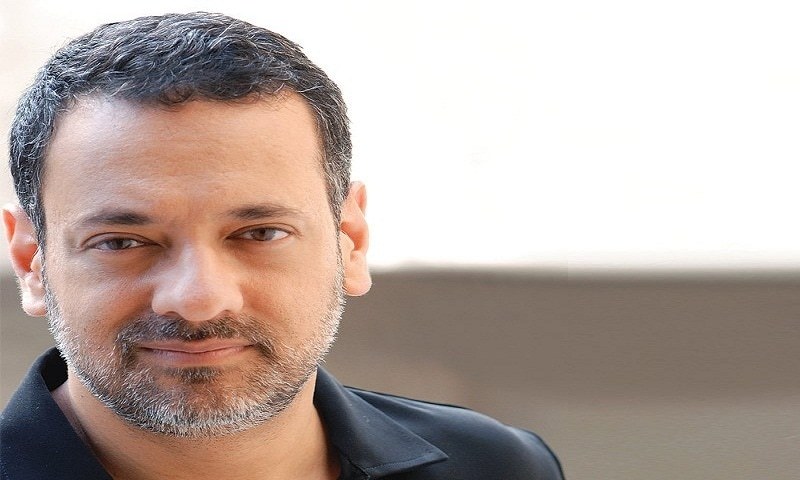 Amir Adnan talks business, family & life with HIP

Amir Adnan has to be one of the most recognizable individuals in Pakistan. It wouldn't be wrong to say that he is an institution. He is celebrating 27 years in the industry and we picked his brains about doing business in Pakistan, influence of family on his and his life in general.
HIP: The norm really is to celebrate Golden and Silver jubilees but you are celebrating completion of 27 years. What made you do so?
Amir Adnan: Is there a rule against doing so (laughs). Look we were doing a solo shoot I clicked. Its numbers right. What the significance of 25, 50 or 27, celebrations are celebrations and you can do them whenever you want, it's just the reason to be happy about what you have done. I want to celebrate and such occasions give you a happy opportunity to do so.
HIP: The ramp we saw in the videos looked pretty amazing, did you actually built the ramp or that place just came in your mind and you thought yes this is the ramp?
AA: Actually, it was in the house and a part of models walk was to continue in the garden. The garden flooring isn't always stable to do a walk. So, we created a ramp on the soft area, and rest of it was concrete around the pool. People were sitting on both sides. It worked out alright, I think.
HIP: Your wife, Huma has always been a great help in your business, can you imagine your business without her?
AA: Only Business? I simply cannot imagine my life without her. I need her to be able to function in daily life. We are like always with each other 24/7. We are best friends, business partners and life partners. So, there is no way I can imagine a business or a life w/o her.
Huma and Amir Adnan present their collection in San Francisco
HIP: And how has been this business journey with your daughter?
AA: In business you have to always look towards the future with vision. I see the role of a parent as bows, they gibe strength and direction to the children to go ahead and hit the target but parents cannot themselves go with the children. Every day, I try to pass on my knowledge to the next generation. My daughter coming in the business was a pleasant sign because that is the natural continuation. She understands the business really well, all her life this is what she has seen. The amount of time she has spent in the factory, she understands it inside out. We look at international brands which are 150 years old. They lasted because they had a vision and people dedicated to meet that vision. With my daughter coming in, this passes on the brand philosophy and ideology from one generation to the next and I am very happy to see that in our case it is happening very smoothly and my second generation has already stepped into the business.
HIP: So how has she brought positive change to the whole setup?
AA: Oh absolutely. She brings energy, foresight and exposure which may be I lacked. She is extremely well equipped to do this job. Her energy rubs me off positively. It's like a shot of adrenaline I needed. The wise man in me and her energy make a fantastic team. The walk was her idea. We have opened another Shapper private limited and Internal Affairs. All brand related activities and events are under her supervision with these companies.
HIP: Some say that the Pakistani fashion industry is a bit overpriced and hence a large chunk of our population is alienated by the pricing strategy. What do you say to that?
AA: It's all relative. Porsche and Mercedes are being sold in Pakistan. Is that expensive? We have Corrollas and Civics. Are those expensive? Same goes for mobile phones or high end restaurants. In business, we have to target certain segments of society. So it's about providing value to customers. If a customer feels there is value and benefit of the product, he or she will pay up. Our products are piece of art. They are unique. So we charge for the value and its individuality.
HIP: Will you look to expand in international market?
AA: I don't need to. Basic rule for growth is, you push where there is least resistance. I feel Pakistan still is an untapped market with tremendous potential for growth. If global brands are coming to Pakistan, why should I go the other way? Pakistan has a huge consumer base. I would focus on our growing population and as a business that is our strategic plan.
HIP: How important is to actually do fashion shows for a brand like yours?
AA: Vital. Clothes are meant to be worn by people. So, we have to put cloths on models give an idea as to how these pieces of fabric would look when they wear them. It's the same with car commercials. It's about showing what your product would look like. I cannot sell a folded Shewarni.
HIP: Your best and worst moment in these 27 years?
AA. I am a very positive person. So for every worst moment, there is a hidden best moment. They go hand in hand. Best moment, would be getting Pride of Performance in 2006. I felt we broke a ceiling. Pakistani clothes were never considered 'fashionable'. We designed Sherwanis for international leaders and the government recognized us. It filled me with pride, getting the highest civilian award.
HIP: What was the motivation of starting this fashion business 27 years ago in a country like Pakistan?
AA: I am creative individual. As a child, I used to paint stuff, make jewelry, or a make-up box. So, I always wanted to create something out of nothing so if not fashion I'd be doing theatrical productions or creating an amusement park for the children. So fashion was one way of creating things. Before fashion I did theatrical work and I did a lot of other things to which I may go back in due time. All these years, I have built everything slowly. So I'd say this was a 52 year journey not 27 as I started creating at a very young age.
HIP: Advise to young people entering fashion industry?
AA: I was very challenging for me to convince my parents that I wanted fashion designing as a career. I am an MBA with a financial degree and I am a financial analyst by training. But I wanted a business venture so basically. The problem is that our educational institutions produce people with a mindset that go out and look for jobs. I wish they produce people who go out and create jobs. We are dependent on multinational companies. This wont take us anywhere. We need 1st generation entrepreneurs. We are a talented nation but we need to take risks. Educational institutes are now offering more specialized courses as well. So, Pakistan has accepted this change. Now it's up to individuals.
HIP for each other: Huma Adnan and Amir Adnan
With this, the fashion maestro concludes the interview and I walk out satisfied with what we achieved through the course of this interview and proud at Amir Adnan's accomplishments over the fine years he's spent in the industry.