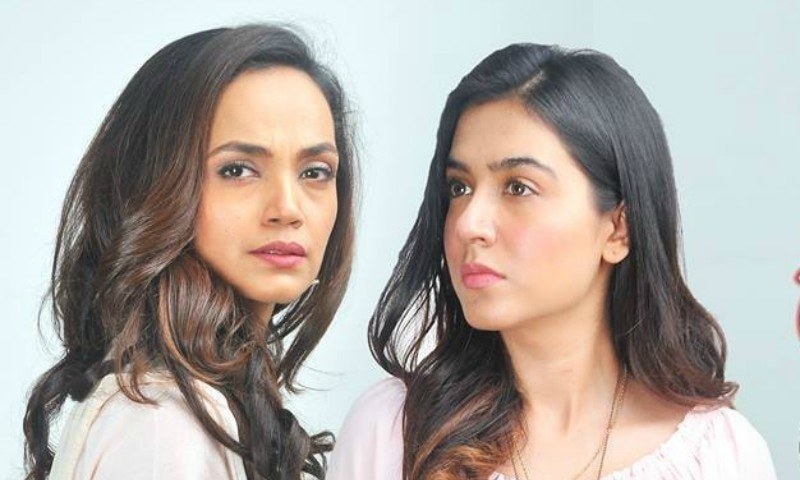 These two actresses are electrifying when together as Ayera and Abeer as the role seems tailormade for the duo.
It seems Tuesday is a day which has us spoilt for choices as on one channel we have Alif Allah aur Insaan and on the other we have the recently begun play called Khudgarz with its exciting ensemble cast of Aaminah Sheikh, Sami Khan, Mansha Pasha and Syed Jibran to name a few. So last night with us having tuned in to see what has happened in Khudgarz we were quite surprised to find out that the drama is indeed a very fast paced story with major developments having taken place within a week.
Time and again, we have been left stunned with the amount of maturity this young writer, Rida Bilal, displays in her plays. The buildup of emotions in the story is very strong as it makes you feel each and everything that occurs. The emotional talk shown last night between Ayra (Aaminah Sheikh) and Abeer (Mansha Pasha) has made us a loyal fan of Rida as well as of Yasir Nawaz whose direction for this play in particular is definitely worth praising.
With so many characters involved, at times it becomes difficult to do justice to all, but Yasir Nawaz, succeeds in making each character important and gives them ample time on the screen, making sure viewers get to know each character better.
So with a double dose of Khudgarz last night, what happened in the latest episode was quite heart warming and in case you did not get a chance to watch it well sit back and read on to find out what all took place between Ayra, Junaid, Hassan, Abeer and Raheel.
Read: With strong performances Khudgarz begins on a positive note
Abeer (Masha Pasha) is Ayera's patient and both share a very good bond. However, Ayera was not aware that it is Hassan (Sami Khan) who is making her life miserable, until one day she sees him coming to Abeer's apartment. Worried sick for her but not wanting Hassan to see her either, Ayera quickly goes up after Hassan leaves and what she sees shocks her as poor Abeer has been beaten black and blue for telling him to leave and is unconscious!
With Raheel (Salman Saeed) nearby, he hears Ayera's voice and quickly rushes in to take Abeer to the hospital, in time to save the poor girl. Ayera calls Hassan and delivers him a thrashing, calling him an animal but doesn't disclose why she is calling him that as she knows no one will take a step against him.
A special mention must be made for Sami Khan here as we have never seen him in such an aggressive role and therefore seeing him stretching his wings with a complexed and difficult character like Hassan is indeed a job well done.
Coming back to the story, Ayera and Junaid ( Syed Jibran) are getting close to one another and it is these moments that bring a balance in to a play which is high on emotions. Junaid is a very simple guy and we are glad that he married Ayera. Even though initially he had no choice but to go through with the marriage as Hassan had abandoned her, but out of the two Junaid is a much better guy, who too, it seems is now in love with Ayera. The duo also celebrate her birthday on the rooftop by declaring their love for one another which we found very sweet.
Read: Khudgarz's teaser tells a story of complex relationships
Another relationship which is flourishing is of Raheel and Abeer who work together and the scene where they both are sitting in their offices and trying to see one another without making sure the other doesn't notice. The sorry note from Abeer was a nicely done scene as even with no dialogues the intensity of the situation was captured well.
So what is in store for Ayera and Junaid as Hassan is hell bent on making their life miserable, is what we cant wait to see. Having seen next week's promo, we have a feeling something very bad is going to happen with Ayera and Hassan will be responsible for it.
If we talk about the actors then all are doing a great job and we are glad to see Salman Saeed taking part in plays like these as he is one talented actor and all he needs is a great script and a director to further enhace his talent. However, the duo who stole the show in our eyes were Aaminah Sheikh and Mansha Pasha as their scenes together, their on screen chemistry has made us huge fans of the two. And so we look forward to watching them in Khudgarz every Tuesday night at 8 pm only on Ary Digital.