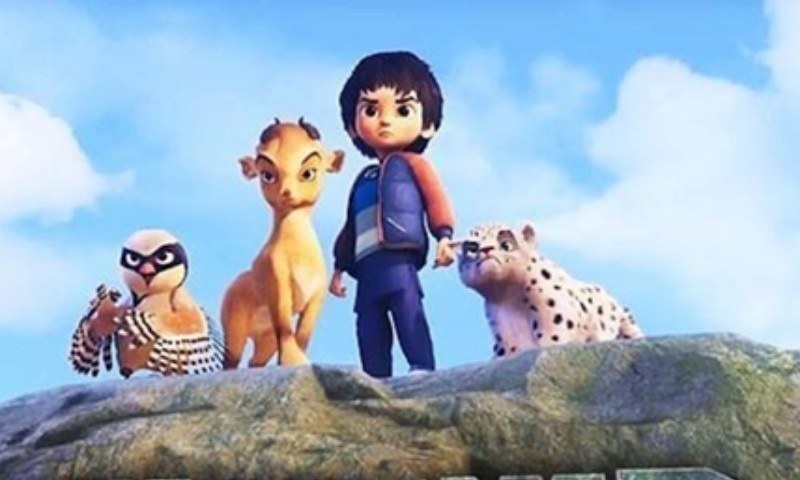 We, for one, can't wait to see the adventurous journey of Allahyar and his animal friends on 2 February 2018

Pakistani cinema is well beyond its revival stage especially when you have such brilliantly made films coming out. And when it comes to animations, we're taking a step ahead once again. With the animated film like Allahyar and The Legend of Markhor at par with the quality of Pixar, we're certainly proud of our talented filmmakers and technicians venturing more and more into the field.
We kept a tab on the project and 3rd World Studio, the talent behind producing such a masterpiece, and are tremendously proud about the fact that this is the hard work of all Pakistani talent. The fact that the makers have focused on even the tiniest of details as can be seen in every frame of the trailer is rather impressive.
Directed, produced and written by Uzair Zaheer Khan, the trailer for Allahyar and The Legend of Markhor does not disappoint at all. It not only shows the scenic beauty of Pakistan but also promotes the country's local animals, leading to educating children about the environment and conservation issues in a rather fun and interesting way. The trailer also promises a story which is going to have a lot of ups and down and will keep the audiences engrossed for sure.
Read : WWF-Pakistan becomes official partners with Allahyar and the Legend of Markhor
Talking further about the trailer, the first thing which we loved are the colors used as it makes the screen come to life. Just imagine if the TV screens succeeded in creating such magic, what would the result be on a huge cinema screen!
The story revolves around Allahyar and his fight with the hunters which also includes the villain Mani, whose voice over has been done by Ali Noor. Allahyar's trusted animal friends help him in his journey to fight wrong and whether they succeed or not is what the story is based on.
Where Allahyar will definitely prove to be an inspiration for many young kids, right there, we can't help but have a crush on the adorable chikor called Hero whose voice is being done by Azfar Jafri. His audition snippets on the social media have made us laugh our heart out and with him providing the comical element in the movie, we have a feeling this will be even a bigger hit than 3 Bahadur in terms of visual and content as well.
With ARY Films also backing Allahyar and The Legend Of Markhor expectations are high from this animated movie which we hope does well when it releases on 2 February 2018 all over.