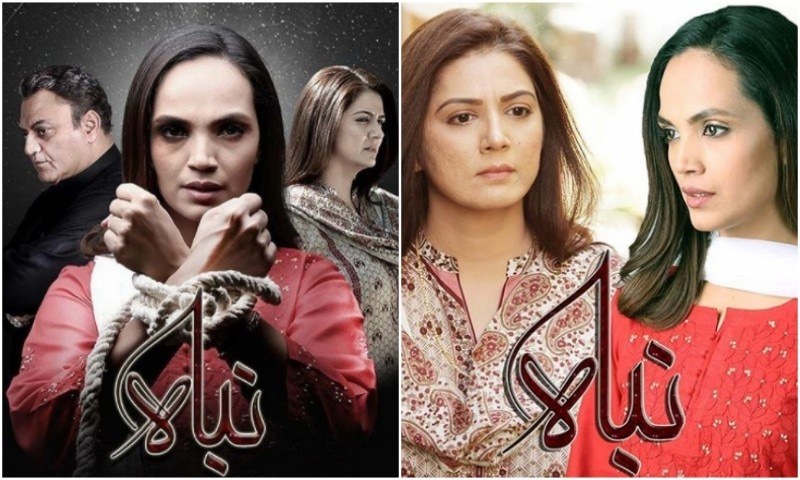 Drama Serial "Nibah" is a brand new outing from ARY Digital that throws light on the complex relationships between a step mother and her newly acquired children, the impact a parent's death can have on a child and its effects on the family dynamics. With a star cast like Aamina Sheikh, Asif Raza Mir and Sawera Nadeem we know that we are guaranteed brilliant performances. The writer Radain Shah has come up with an interesting story where a step mother will be a positive influence rather than the same old "cruel step mother" cliché; and hopefully with this serial we can get rid of these stereotypes from our society.
The story is about a couple Shaheer (Asif Raza Mir) and Saiqa (Sawera Nadeem) who are living a blissful life with their three children, when a tragedy strikes them when Saiqa is diagnosed with an untreatable cancer. The episode showed how Saiqa has accepted her harsh reality and focuses on the positives rather than the negatives. There were some very emotional and heart touching scenes between the couple, the way they comfort and support each other during these trying times. Sawera Nadeem is an amazing actress and I will be sad to see her die soon! Her performance, dialogue delivery with the sadness in her voice, topped with gut wrenching dialogues made her scenes very poignant and full of impact.
Although, Saiqa is given a minimal life expectancy and moves to another place for hospice care. However, I think Saiqa should have stayed at home under hospice care rather than go to an outside facility. I also think it is not right for the children to be away from a dying parent, as acceptance is part of the healing process which can only come when they see it with their own eyes. Even the youngest daughter Fanny should have been around her mother during this time.
Coming back to the children, I also think it is wrong to lie to the youngest child (Fanny) that her mother is going to visit Allah and will be back soon. This creates trust issues and the child feels a sense of worthlessness being lied to, which can lead to unforeseen repercussions. Maybe it was intended that way by the writer? They also have a son (Mubashir), a teenager who is like any other kid his age going through the usual behavioral changes of adolescence and puberty. It will be interesting to see the effect of a parent's loss on him, which may lead to acts of aggression, acting out, and being rebellious towards parent figures. We see a hint of it already; with Mubashir blaming his father for his mother's condition. This coupled with peer pressure will lead to drug abuse as was suggested in today's episode. I am intrigued how the writer will handle this sensitive issue which is more prevalent than most parents like to believe.
Parallel to this story, we have another family with Sofia (Aamina Sheikh), her younger sister Saira and her parents. Sofia also happens to be Mubashir's teacher at school with whom he has had a few altercations. Sofia is getting Rukhsati finally having married (nikah only) to a man living in Dubai for 3 years who she hardly knows. He sends her divorce through mail on the day of her Mayoon which obviously is devastating for the entire family including Sofia. I loved the scene between Sofia and her father, it was a beautifully directed, executed, and acted scene with simple dialogues that carried a strong message. When Sofia locks herself up after the divorce, shattered and crying, her father consoles her from outside the door; that scene was a million bucks. He tells her it is not her fault, it is that man's loss that he divorced such a beautiful person like you, and so on. It literally brought tears to my eyes. Aamina Sheikh acts very naturally and I loved her in each and every single scene.
Teasers of "Nibah" on ARY Digital manage to intrigue us for its story!
On the other hand, another harsh reality was raised by Sofia's mother that still unfortunately exists in our society; the stigma of divorce for the woman. It is un-Islamic to even think this way but that's exactly how we go. The way this issue was brought up is applaud worthy, making the writer's message very clear.
The OST is beautiful, hummable, with meaningful lyrics, adding melancholy to the scene when it plays in the background. The editing could have been more though. Also, special mention to the little girl playing Fanny, she is super cute and acts amazingly well! I am looking forward to Sofia's marriage to Shaheer, her interactions with his children, how she will try to "fit in" and last but not the least, her chemistry with the baby girl of the family! With Nibaah, I am totally sold, are you?