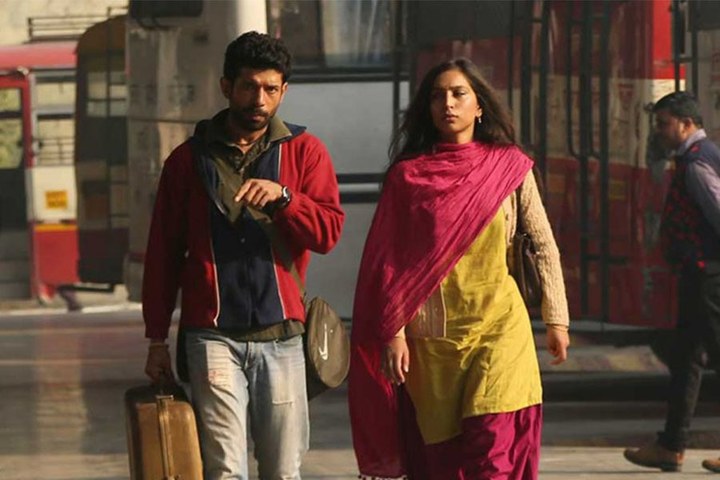 Sports movies have patterns. Usually a story of an underdog, a motivated coach, 'the love interest' & opposing forces conspiring in shape of the system usually depicted through a horrible human being. There is the usual graph of the film, uphill struggle and eventual triumph.
Mukkabaaz has each of these characters, yet the story is profoundly different.
Movies with a social messages also have patterns. There are clear losers and winners. Moral and practical choices converge and the hero/heroine does the 'right' thing. Mukkabaaz does highlight social ills of 2018, India but it's doesn't follow the usual strenuous patterns. Like life, Mukkabaaz is about a lack of pattern, it is about making impossible choices and emerging with a smile. It's an illustration of true events. People on some level will relate to the struggle, the pain and the ills faced by Shravan Kumar Singh (Vineet Kumar Singh).
The film tells it story with the intricacies of its characters. So, I will just give you a premise of story and talk in greater detail about the characters. Our hero, is the best boxer is town but is held back due to a monstrous villain. As it happens, he falls in love with her niece. From there is become an epic struggle between the two men (not that other roles are insignificant).
Now to the characters, Vineet Kumar, embodies Shravan Singh with such comfort. The physical transformation is well documented, and to go with it his performance is the absolutely flawless. There is no showmanship on display here. In each punch, it looks as if he is visualising every rejection from a casting director, in every jab, you feel the frustration of man who had to try 100% harder to get to this point than most other actors, and with every upper cut you could see the sense of satisfaction of a job well done. Anurag Kashyap provides him the stage, Vineet Kumar pulls out the bunny out of the hat.
He is a purist and has tremendous ambition. In one scene he asks his over bearing father, what is achievement of your life? At least I have one a trophy. However, his life has two goals now. As they like to say in Indian films, do kistiyon mai safar kr rha hy'. So become worth of marriage with Sunaina (more on her later), he has to box and brawl. Box inside the ring and brawl outside, with the police, with Bhagwan Das and his goons. Shravan breaks free for odd moments like when he takes on his nasty boss (well let's not discriminate against 1 boss), but comes back in his cage, such is life.
There is Bhagwan Das (Jimmy Shergill), the villain. The embodiment of all things wrong in today's India (and to be the all of sub-continent). The man is sexist to the core, he believes in his own divinity as a Brahman, corrupt to the core, and he uses nationalism and regional politics (Cow vigilanti or Goa Raksakh) to further his own interest and as mentioned before has complete control over boxing affairs in his state. The character tortures his own brother, and his wife and niece to massage his own ego.
Sunaina (Zoya Hussain) is fierce and beautiful at the same time. Her role is not limited to your traditional love interest in a sport film. Her character he a lot to say and she does it so brilliantly without speaking a word. She acts like, she has been talking in sign language all her life. Her struggles, physical and otherwise are tangible. Then there Ravi Kishan, the outside coach, who goes into coma in trying to take Shravan to the National Championship. He delivers an earnest performance.
I had seen this film on Friday night. It took me 2 days to write this review. There is so much to talk about that I was pummelled in my head by my own thoughts. What to write what to ignore. And this perhaps is the only gripe with the film. Its takes so much on. But boy the performances are absolutely top notch. Everyone is at their A game. You will be unable to box this film into a category. It's not even a revenge thriller. It will remind of things you had to let go to get something else. The struggle is real as they say.
2018, has started with a special film. Let there be many more like this one.