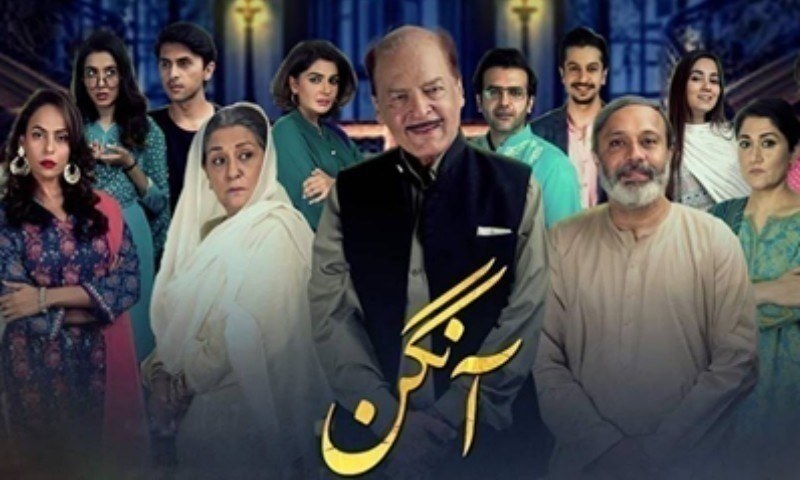 Ten episodes down, its Irsa Ghazal who steals the show & our heart every week as Hajra and her outstanding performance
Aangan on ARY Digital has brought back that much needed family entertainment back on screens. It is that one type of a drama that you can sit together with your entire family and enjoy without having to worry about awkward moments. In fact Aangan is such a family oriented show that one can easily now sit down with the elders and have a good laugh or even shed tears together as in the latest episode Mian Ji (Qavi Khan) made us realize that the youth today has somehow failed to grasp the importance of elders in a family. His grandson in America conveniently blocks Dada ji from his Facebook over a comment which leaves Mian Ji heartbroken and us feeling his pain.
10 episodes down we are now completely hooked to Aangan as its a beautifully written drama by Faiza Ifthikhar and has a blend of everything packed into one. From emotions to wit to even dealing with a nand (Zainab Qayyuom) which is possibly every Pakistani girl's nightmare, Aangan feels truly very relatable.
So what took place in the latest episode on Saturday ? Well read along to find out in case you missed it.
Read: Aangan episode 8 review: The family emotional saga is an onscreen delight
The entire household is super excited as Hajra's (Irsa Ghazal) best friend is coming to meet her as she has something very important to ask on behalf of her son Aqdas (Tauqeer Ahmed) and naturally with Hajra being a mother to a daughter her mind starts working over time as she is dead sure that her friend is coming with a proposal for her daughter, Shaheena!
So with preparations' in full swing and one by one Hajra confiding in all and with Shaheena beaming away, the shock comes when everyone finds out that Aqdas wants to marry the very simple Zoya (Mansha Pasha) and nobody else!
With Hajra heart broken and crying away, the family is left stunned with the proposal as never could they imagine a happy go lucky guy like Aqdas to fall in love with the sober and barely smiling Zoya. But then again love is something which has no reason attached to it and can happen anytime with anyone and so Zoya and Aqdas are meant to be.
However, with Zoya herself taken a back upon finding out that its her who Aqdas wants to marry she doesn't know how to react. At the same time she feels sad for Shaheena who was so excited upon the proposal. But remember Zoya is a very sweet girl and more than Shaheena, she, in our opinion deserves to be very happy. So with the family now having asked for some time to think we for one can't wait to see Zoya and Aqdas married.
But will the journey be a smooth one as next weeks promo suggests that the age difference between the duo, as Zoya is a bit elder will be a hot topic of discussion everywhere.
Read: Aangan continues to be the perfect Saturday night watch
Now one of the highlights of Aangan for us are the conversations between Hajra and Laila (Iffat Omar) as the way they talk about their in laws and scrutinize them always makes us laugh a lot.
Irsa Ghazal has been stealing the show every time and we are so glad to see her appear in a role like this and hope to see her in more light hearted characters in the future too . Direction by Qasim Ali Mureed never disappoints and always keeps us anticipating for the next episode.
So if you are looking for a well made and an entertaining play then do watch Aangan every Saturday at 8 pm only on ARY Digital.