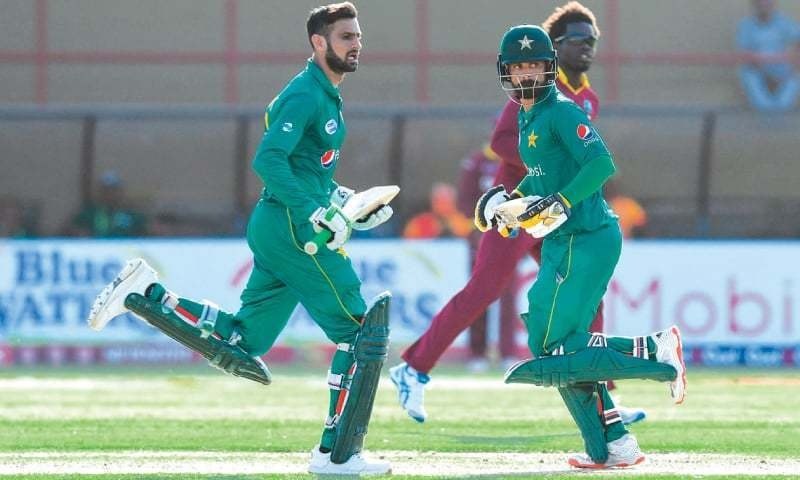 Its 3-0. Perhaps are greatest worry has been the meekness of the surrender. Batting has completely capitulated in rather difficult conditions. Bowlers have not been able to make consistent breakthroughs and in face of decent targets, batsmen have no idea where to score their next run. As the series has gone on, calls are being made to bring in players from the bench. Harris Sohail being the obvious call for inclusion.
While, Azhar Ali seems to be the most under pressure. His Test record is absolutely outstanding but his ODI record leaves a lot to be desired. He was drafted in the side, to lead it and was swiftly dropped once he resigned as captain. Only to make a comeback for the Champion's trophy as selectors deemed it necessary to have a solid technique opener in England. Fakhar Zaman's T20 and Azhar Ali's test match approached well. But it worked largely due to the wonderful bowling by Hasan Ali and co. Pakistan just about ketp the run rate up before rain intervened against South Africa, restricted Sri Lanka to 230 odd and Sarfraz, Amir and dropped catches ensured we went through and in the Semifinal, again bowlers did their magic. Only in the final, did the batting come through really. That was largely down to a once a generation innings by Fakhar Zaman. Azhar Ali and Mohammad Hafeez while were key contributors, the match defining knock was of Fakhar. Plus, India attack had 3 spinning options and Ashwin came on early. Hence, Pakistani batsmen were at ease. Sri Lanka and UAE conditions never tested our middle order.
However, New Zealand with their battery of pacers, have exposed our frailties. While, Azhar Ali's place is up for discussion always, the middle orders performance has gone unnoticed a little bit. This is a pattern. Shoiab Malik and Mohammad Hafeez, have always had faulty techniques and have rarely overcome the challenge of bounce or seaming conditions. In this series, their failure has magnified because they haven't been able to take advantage of the spinners either. Mitchell Santner, and Tod Astle, haven't given them an outlet.
But it is odd to expect anything but such performances from the 'experienced duo'. By batting Mohammad Hafeez at 4 and Shoiab Malik at 5, Pakistan were always setting up for failure. In 45 games in and against, New Zealand, England, South Africa, and Australia, Hafeez averages 24 at a strike rate of 66. While, Malik averages 23 with a strike rate of 66 in 50 matches. It wouldn't take an expert to figure out that these numbers are really poor. I can dive into a more comprehensive details of these scores, like even with this average of 24, Hafeez scoring a 50 and getting out at a crucial time in the 2nd ODI, but I'd rather focus on the solution.
Captain Sarfraz Ahmed, while batting even lower down the order averages 34 with a strike rate of 85 in 17 games aways against the same opposition. Why would he sacrifice himself to allow, batsmen with much inferior records, is beyond any rational reasoning. There is Harris Sohail waiting in the wings, he could easily bat 4 and Sarfraz can go at 5. It could bring some sort of discontinuity to the right handed line up. For some odd reason, Pakistani management remains averse to left handed middle order batsmen, from Asim Mujtaba, Asim Kamal to now Fawad Alam. Hafeez, only comes in if he clears his bowling test and bat at 6.
All-round display lands UBL Departmental One day Cup
May be selectors can go with conditions, and play Mohammad Hafeez and Shoiab Malik on spinning wickets. It's time to be wiser for the management. We have found a decent modern day opener, a compact numbers 3, quality bowlers and a solid fast bowling all-rounder. It's time to take chance a with the relatively new batsman and allow them to make mistakes and learn from them. Players with poor records over the past 15 years, wont improve much on those conditions. Remember, the World Cup will be in England in 2019 and ground apart from Lords and Oval will be used, which could mean swing and seam. Pakistan cannot go in the World Cup with this middle order. We cannot drag players along.