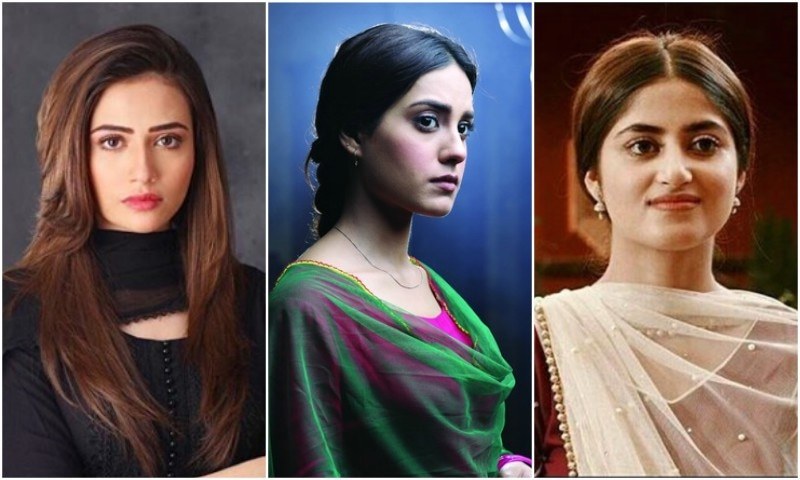 From Ayesha Khan's Mahagul in Khuda Mera Bhi Hai to Sana Javed's Khaani, stronger women are a welcoming change on TV
Its great that our television industry is finally moving away from the stereotyped heroines and focusing more on stronger characters for females. Sana Javed's character as Khaani in drama serial Khaani or Sajal Aly's portrayal of the sassy Sassi in O Rangreza are a welcoming change to the mainstream protagonists.
Here's a HIP roundup of our all time favorite strong female characters that we got to see on television last year in no particular order.
Sana Javed as Khaani in Khaani
The drama revolves around the stereotyped misuse of power that influential people are so used too. A 7th Sky Entertainment signature production, Khaani is the story of a strong girl who dares to defy her perpetrators and stands strong in front of every misfortune that is befalling her family!
Sana Javed; an actress who embarked on a high road to success in 2017
Iqra Aziz as Saba in Ghairat
Iqra's character of Saba, where she transformed from a meek, submissive woman to one having her own voice and the power to stand against her oppressor, in Ghairat was truly commendable. Ghairat was an unconventional play and one that we absolutely loved.
Saima Noor as Naheed in Mubarak Ho Beti Hui Hai
Now this one was an amazing drama by Big Bang Entertainment. A woman defies her husband who thinks of his daughter as a burden and remarries only to hurt his wife more, Mubarak Ho Beti Hui Hai portrayed the story of a strong woman who was not afraid to raise a voice for her daughters and their bright future.
Sohai Ali Abro as Salwa in Aadhi Gawahi
The drama might not have been a hit favorite with many but we absolutely loved the character of Salwa, who stood up to the feudal Hamdan Chaudhry and fought for her rights with the right amount of brain and intelligence.
Aisha Khan as Mahagul in Khuda Mera Bhi Hai
Now Mahagul's character was the true definition of strong. Aisha Khan played the role of a mother who gives birth to an intersex child and then has to fight for his rights to equality in all wakes of life. Aisha portrayed the character of Mahagul with absolute conviction while challenging societal norms and winning hearts!
Sajal Aly as Sassi in O Rangreza
She does what she pleases and doesn't give a worry about anything or anyone at all when it comes to herself, such is the sassy Sassi in O Rangreza. She's brave, she's confident and she's very straightforward, something we absolutely admire.
Sonya Hussyn as Pakeezah in Aisi Hai Tanhai
Pakeezah is the true example of what doesn't kill you, makes you stronger. The girl had her compromising pictures leaked on social media and now she will stand up and face the society alone. Aisi Hai Tanhai is not only an eye opener for females all around but it also teaches a much valuable lesson to all.
Aisi Hai Tanhai is an eye opener
Sonia Mishaal as Aliya in Farz
The girl chose to play a police officer in comparison to a dainty heroine in PTV's Farz; a true proof that our television industry is ready to shun its image of the stereotyped heroine its so used to portraying in its dramas.
Pakistani television industry has been gradually but certainly moving towards acceptance of stronger, more realistic female characters. We've had the persistent Kashaf from Zindagi Gulzar Hai and Sanam Saeed's strong portrayal of the character; there was Mehwish Hayat as Anmol who chose to stand up against Mohid with all her might in Dillagi and of course Mahira as Khirad in Humsafar who went from being meek and submissive to a very strong female, who would stand up for herself and her daughter.
We love that fact that Pakistani dramas are now focusing on the portrayal of strong women as their female leads. These women are not only strong in the literary sense of a "strong female character" but are women with real flaws, real developments and dynamic personalities, truly strong, and not only in the bodily sense of the word.