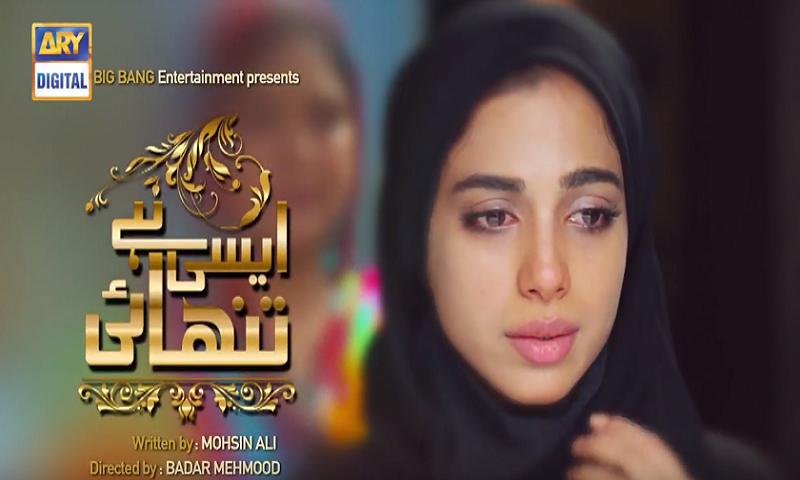 "Emotionally drained" is how I felt after watching today's episode. There were some scenes that had tears running down my face, then there were some that sent my heart fluttering, and still some that broke my heart into a million pieces. The OST is good, but too loud whenever it plays and no, the "melancholic" background music doesn't help make the scene any gloomier than it is. In contrast, the music played during Hamza and Pakeeza's scenes has a sweet, romantic tone that gives it a "mushy" flavor. The editing though could have been better; I did not see the point of Dr. SAAD's scenes today.
Pakeeza woke up to an inquisitive Ramsha, who had saved and brought her to the hospital last week. Pakeeza was initially withdrawn, showed indifference when she heard about her miscarriage, but upon Ramsha's coaxing, she finally broke down. Sonya Hussyn was brilliant in that scene, the pain of a woman who went through an ordeal that she can no longer bear, was visible on her face. But call me different or unique, for some reason Pakeeza has never been able to make me "feel" for her. Although, Sonya is beyond exceptional, she couldn't bring a vulnerability to her character, to make me shed a single tear, even though I felt devastated to see her grieve the way she did.
On the other hand, I am actually impressed with Nadia Khan. Her Kinza has slowly grown on me, from the girl who dropped the glass with arrogance in front of her mother to a sister who was hellbent on taking revenge from her "husband" and finally to a woman who accepted her marriage. Not only has her character grown, but her acting has matured as well. Kinza is falling in love with Hamza, and theirs were the cutest scenes of the entire episode.
I am probably the odd one, but I love the two together. There was something so magical, with the way she called him at work, was anxiously waiting for him to come home, and was happy when Hamza asked how her day went at work. Isn't it ludicrous that of all the depressing, gloomy scenes of this drama until now, the one that brought tears to my eyes was Hamza and Kinza's dinner table scene? They looked super cute, and I kept thinking how devastating it would be for Kinza when she will find out that her sister is alive; and the uncertainty she will go through, that the man she's falling for may leave her once his "true" love is back. Just the notion of it all made me heavy hearted and I couldn't stop my tears.
Hamza doesn't realize, but he's come to depend on Kinza too, a lot. She persuaded him to talk to his parents, and pushed him to do the right thing. But he's coming with a baggage in this relationship, so it will take time for him to accept it all; but the way he said "woh meri biwi hai" to his parents said it all. That was another scene that made my heart skip a beat, yes it was romantic and love is definitely in the air! He is very slowly falling for her too, without even realizing. Sami Khan was amazing as usual, and without a doubt he has put his heart and soul into this character. The expressions on his face when Kinza was telling him all about the people she works with was hilarious; it was an "umm do I know these people? And does it look like I want to know all this?" kind of look. It was a very relatable scene; and as a matter of fact I thought I was looking at my own reflection.
Aisi Hai Tanhai Episode 19-20 Review: A true roller coaster of emotions!
Next week we will see Hamza come face to face with Pakeeza; it looked like a pretty intense scene in the promo, with finally some chemistry between the two. However, Hamza and Kinza are super adorable together; they are like cupcake and frosting, one wouldn't taste good without the other and there is NO WAY I'm letting Pakeeza take MY cupcake away! Now I just need to keep her away from Hamza and maybe convince the writer? I'm a little nervous about it all, are you?