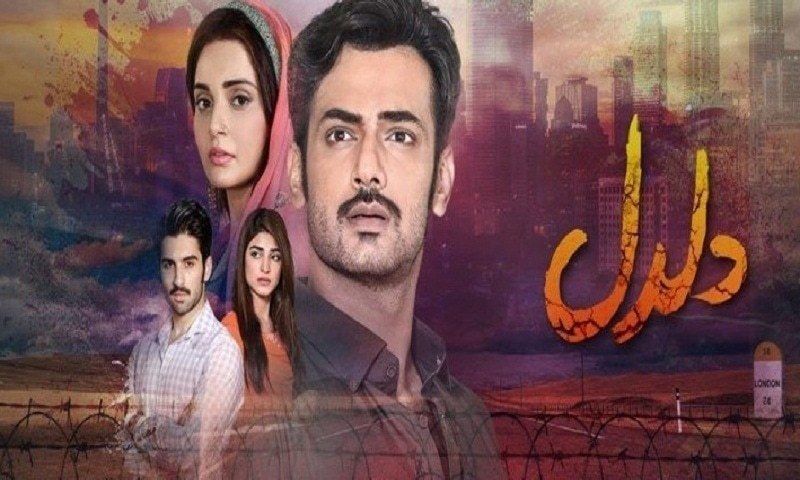 Usually what happens is that when a drama goes beyond its initial stage it becomes somewhat stagnant and we lose interest as an audience. At times, the story does not pick up pace or the plot is so poorly executed that one cant help but avoid watching that particular drama altogether. But if its Daldal you talk about, you'd be surprised to know that there has only been uphill for this drama. The storyline keeps getting inetresting and there is just so much to be told that we absolutely love every moment in Daldal.
This week, the tale of love, loss and betrayal with Hira heart broken upon Shuja's second marriage in UK, continued with more intensity than ever.
Written by Qaisera Hayat, the writer known for her emotional stories, last night Daldal made us shed a few tears as we felt sorry for Shuja. When the story began, Shuja was a very arrogant character but the tough life he is facing in London has made him softer, more malleable. However, the question still remains, how will he ever make it back to Pakistan? Since Hayat is a writer who never disappoints, we can't wait to see what else she has planned for this particular character of her's, played brilliantly by Zahid Ahmed.
With the 23rd episode having aired last night, all we can say is that Shuja is finally realizing what a mistake he has made getting married to Preet (Kubra Khan) as life has become very difficult for him especially when he cannot say anything to anyone back home.
Read : Daldal takes an interesting turn with Preet asking Shuja to marry her!
So what else took place in last nights episode? Well let us fill you in with all the details.
Hira (Armeena Khan) is devastated partly because of Shuja's absence and partly because she cannot be sure about his marriage in the UK. If its tough for Shuja abroad, its equally challenging for Hira to live alongside a bossy mother in law and a lovey-dovey couple who gives her the chills whenever she sees them.
With Shuja quite upset due to Hira's behavior on the phone with him as she refuses to talk to him and when she does, she reminds him how she never expected him to be unfaithful to her. Hira is harsh, but there's one thing we realiszd that UK has mellowed Shuja down as he has begun to speak nicely to Hira and also understand her frame of mind. But with him not able to tell her about his marriage, Shuja is at a very difficult stage in his life and thus we also understand the reason for the play's title; Shuja is very aptly in a Daldal these days.
Kamran (Muneeb Butt) is the only responsible one in the house and he too reassures Hira that they all love her but her behavior with their mother was uncalled for. The next week's promo has left us a bit disturbed as it seems that Hira's mother in law won't let go of her that easily and will make her pay for crossing her limits by taking her to a Baba Jee!
Read : Armeena Khan talks about Daldal with BBC Asian Network
Now what will happen there and with Preet being drunk and having kicked Shuja out of the house, lets see where their relationship is heading to as well.
Talking about the performances, Armeena Khan won us over last night as she represents the pain of majority of the women whose husbands go abroad and then re-marry to secure themselves while they are left behind. Zahid Ahmed was the ideal actor to play Shuja as he portrays this character with such finesse that Shuja will be remembered for a long time as one of his best roles. Muneeb Butt has matured with Daldal and we hope he continues to work in plays which have a brilliant script as that will further enhance his talent.
So an emotional episode last night Daldal is an eye opener and definitely a must watch every Thursday at 8 pm only on Hum TV.