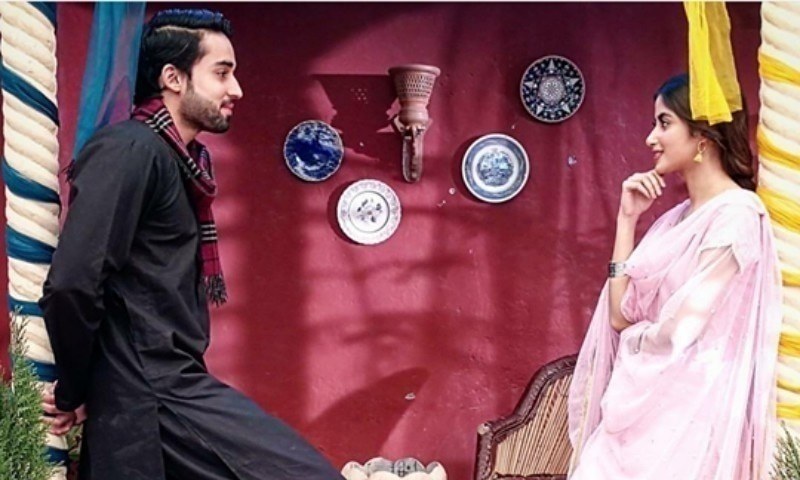 One cant help but wish for Qasim and Sassi to be together but the story keeps on getting more twisted every time
Our Friday nights are never really complete unless we have seen the latest episode of O Rangreza which in the last couple of weeks has become interesting once again. Qasim (Bilal Abbas Khan) and Meena (Sonia Mishal) are now married and it seems that Sassi ( Sajal Ali) is finally realizing that she was a fool to have let go of a gem like Qasim who is perhaps the sweetest person in her life, as well as in the entire play.
Saji Gul with emotional yet strong stories has always kept us intrigued but O Rangreza is different. This one is a true masterpiece from the storyteller and the way Kashif Nisar has directed it, ensuring the actors get under the skin of their characters, one can't help but think of Sassi , Qasim , Khayyam ,Mumtaz and Wajih as people whom we have known for a long time and can completely relate to.
So coming back to the play, well last nights episode was a mix and match as the highlight of the drama were the scenes between Qasim and Sassi. The duo share a great on screen chemistry and despite Qasim having married Meena, deep down inside we know he harbors feelinsg for Sassi somewhere.
Read :O Rangreza episode 19 review: The drama is back to being interesting!
Now Meena is exactly what Qasim needed in his life as she brings with her stability and since she is madly in love with him we are glad to see her going out of the way for Qasim. Where Sassi used to treat him like trash, Meena utters his name with a lot of respect and love.
.
On the other hand, Mumtaz aka Mammo (Irsa Ghazal) is quite satisfied with Qasim as he adores her but right there, her own son Tipu ( Hamza Firdous) has left her heartbroken as he spent a large amount on a credit card under her name about which she had no clue. So with both mother and son in an awkward position, lets see how Mumtaz handles this particular situation.
In case you are thinking that Sassi is happy for Qasim, the truth is that she is trying to make things difficult for the duo making us realize that Sassi is one confused girl who gets attracted more towards things she can't have. With Qasim now married, she is beginning to see him in an entirely different light and does not like the fact at all.
On the other hand Khayyam ( Nauman Ejaz) is busy looking after Sonia (Sana Fakhar) whose health is getting worse with the day and with the episode ending we found out that from now on she wont be able to speak either making us realize that life is so unpredictable as in one moment you are at the top of your career and the very next you don't even have enough money to keep a roof over your head.
Read : O Rangreza episode 8 review: Will Sassi's complicated personality ever be understood?
Also with Wajih (Omair Rana) left highly impressed by Sassi, it seems the war between them is over which has made Sassi very happy. Also Qasim is developing a soft corner for Meena and it is good to see him remain humble and put Mumtaz always first, as it was due to her love that he managed to shed his hesitation and become something in life.
But with Sassi wanting to keep control over Qasim and with him falling in love with Meena, lets see how it all really ends for everyone.
If we talk about the performances from last night then Sana Fakhar did a great job especially where her health begins to detoriate, that was a scene well done. Nauman Ejaz is in a league of his own as well as Irsa Ghazal and what would be great to see is both these fine actors in another play which can be a bit light hearted as we are sure both will do complete justice.
So with great on screen chemistry between Bilal Abbas Khan and Sajal Aly, O Rangreza is aired every Friday at 8 pm only on Hum TV and with us in love with Qasim and Sassi lets see what the future episodes have in store for the duo.