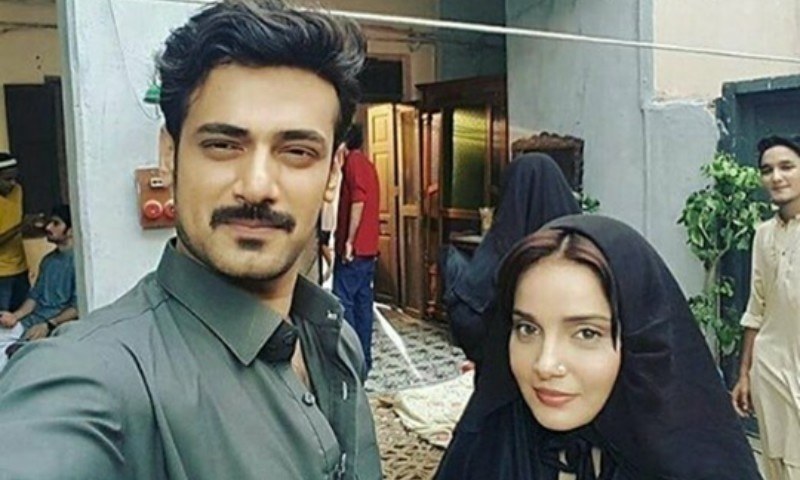 With Hira about to be taken advantage of by a Baba Jee (Peer), last night's episode was indeed an eye opener
By far one of the best plays to have hit our television screens is Daldal. Written by Qaisera Hayat, Daldal revolves around the topic of illegal immigration and the plight of the family left behind. Shuja (Zahid Ahmed) ventured of to London, a place he always wanted to go for a better future, is now regretting his decision every single minute of his life. He has had to marry a citizen to become legal in the country but Preet (Kubra Khan) is proving to be one pain in his ass.
Direction by Siraj ul Haq deserves a special mention as even after having been on air for the past 24 weeks, there is never a dull moment in Daldal. Each scene is executed so well with all the characters given ample of screen time which results in the viewers forming a good connection with each of the character.
Read : Armeena Khan talks about Daldal with BBC Asian Network
Last night's episode was quite hard hitting because it showed how our people are still too worried about what others will say instead of standing up for what is right and catching the culprit.
The reason why we say this is because Shuja's mother (Asma Abbas) after getting a good beating from Hira (Armeena Khan) last week is after her life however, she does not show it and forgives her quickly when a sad Hira apologizes. But upon Hira confiding in her about how upset she is these days, the elderly lady decides to take Hira to a Baba Jee (Peer).
Now with everything happening these days and people coming across cases of so-called religious leaders exploiting women in the name of religion, the drama hit us hard because the Baba Jee seemed inspired from real life only. When left alone with him, the Baba drugged Hira to have his way with her. However, luckily for Hira, she is found by her mother before it is too late.
However, what we did not like was the fact that upon bringing her home, unconscious, Hira's mother does not take the matter to the police nor does she take Hira to the hospital in fear of what she will answer when questions are thrown at her. Inspired from real life, we believe this is where we fail as a society because if such cases are talked about then these crimes wont be committed as people would become aware that not all Baba Jees are genuine or trust worthy.
So hats off to Qaisera Hayat once again for writing a story which is touching upon issues which the viewers need to be educated about and what better way to do that than through a drama.
Read : Daldal takes an interesting turn with Preet asking Shuja to marry her!
Talking about Shuja, well he has had enough of Preet who kicks him out in the cold whenever she wants but since he is illegal he has no choice but to bear with her for the moment. But with him not fulfilling his duty of a husband, Preet is finding friendship in another man and that has made her want to now divorce him as he too is getting on her nerves!
But if Preet decides to leave Shuja how will he become legal is an issue which makes us anticipate the next week's episode.
All actors on board are doing a fabulous job especially Zahid Ahmed as his character Shuja is someone who has many shades and from the first episode till now he has changed so much that one no longer hates him but hopes he gets out of this mess soon. Kubra Khan is a delight as Preet as she too has chosen to play a role with multiple shades. Armeena Khan stands out as Hira and we hope to see her as well as Muneeb Butt and Kinza Hashmi in more meaningful plays soon.
So still on top of our most loved plays list Daldal is a must watch every Thursday at 8 pm only on Hum TV.