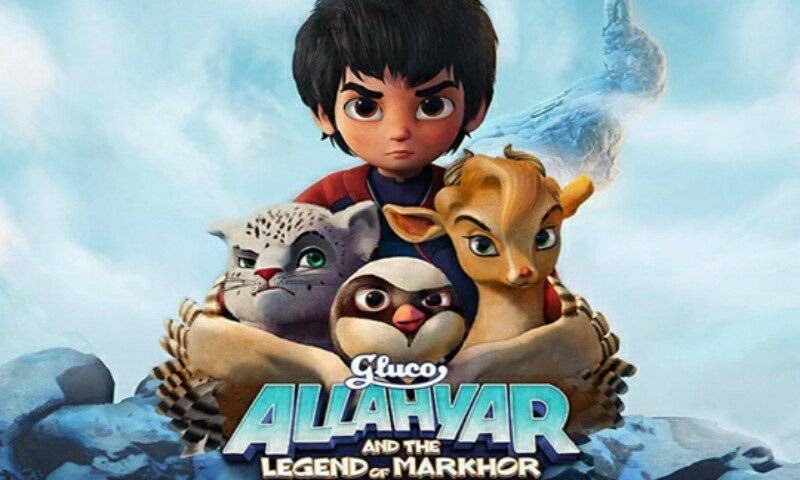 Outstanding animation with fine detailing left us in awe of each and every scene.

It was sometime last year when we came across a teaser for an animated movie called Gluco Allahyar and The Legend of Markhor. The teaser left us in awe due to the animation as despite being a locally made movie its visuals were at par with anything from Pixar. The quality led us to interviewing the makers at the 3rd World Studios and now of course with Peek Freans Gluco backing it up, February 2nd saw the final release of the movie for the public and with me having taken along two of my kids, it was great to see young enthusiasts along with their parents buying tickets to see their hero Allahyar and his animal friend, a Markhor called Mehru on the big screen.
Having seen both parts of 3 Bahadur with a lot of interest, Gluco Allahyar and The Legend of Markhor made those movies look very immature as the amount of detailing, the realistic feel to each character and movements that flowed smoothly left us feeling immensely proud. The film's animation proves we have talent in Pakistan that can compete with anyone when it comes to quality production of movies.
Read : WWF-Pakistan becomes official partners with Allahyar and the Legend of Markhor
With my children and I having enjoyed watching the movie, the beauty of Gluco Allahyar and The Legend of Markhor lies in the fact that it sees a fun spirited boy Allahyar (Anum Zaidi) who teams up with a Markhor (Natasha Humera Ejaz), a snow leopard named Chakku (Abdul Nabi Jamali) and one of the most interesting character in the entire movie, a chakor called Hero whose voice over has been done brilliantly by Azfar Jafri and together they pair up to save Markhors in Sia Koh from the cruel hunter Mani (Ali Noor) and his at times feeble minded right hand Bablu Chacha ( Arieb Azhar). But do they succeed in their quest and what hurdles they face is something which you will have to find out for yourself.
With the first half passing a bit slow, it was the entrance of Hero which made everyone laugh as some of his dialogues were so witty and spontaneous that both kids and adults instantly fell in love with this adorable chubby chakor.
Another thing which has been incorporated quite well in the movie is the usage of Peek Freans Gluco as in the past we have seen sponsors take over an entire scene and not fit in anywhere but here the brand was made a part of Allahyar as any boy of his age enjoys a pack of biscuits as a snack and Allahyar is no different. In fact with Gluco being my younger one's favorite biscuit , he was glad that Allahyar and him had something in common, something a lot of young kids will be able to relate to.
Talking about Ali Noor as the villain Mani, well he shined bright as his voice has that ability to change tones according to the situation and we hope that the singer does lend his voice to many more projects. Also besides visually being very appealing, the film's music is also brilliant, especially Muskaraye Ja and the track Allah Allah Bol sung by Ali Noor himself.
Showing the beauty of the northern areas of Pakistan as well as educating the public about our national animals, Gluco Allahyar and The Legend of Markhor has more working in its favor than against it. So if you have kids or want to see some brilliant animation then do go and watch the movie as my son has just announced that he wants to see it again but this time with friends as Hero's antics kept him laughing all the way home.
However, where visually the film is flawless, right there the drawback comes in the form of the story which is a bit weak as the concept behind the movie was to create awareness amongst its viewers to look after animals and stand for their rights. But with no heart felt dialogues that stressed the point enough, we felt the movie actually lost a bit of its purpose with stunning animations but if we put this point aside and applaud a film that has been made so well, we'll be proud of the outcome of Gluco Allahyar and the Legend of Markhor as the film is a delight to watch on the big screen.