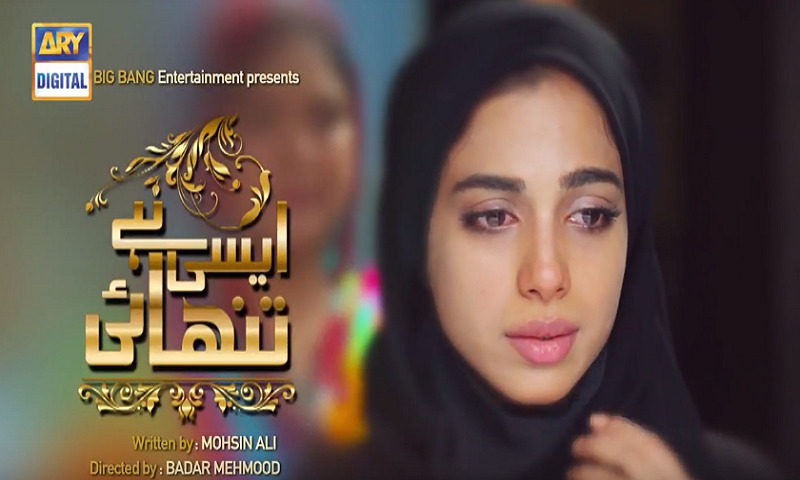 Time and time again we find ourselves pulled back to Aisi Hai Tanhai. Even if the review isn't coming in, this is one drama that is not missed at all, owing to its powerful story and a very strong message it intends to give out.
The room felt cold while watching today's episode and I could feel the chills running down my spine. I realized that it had absolutely nothing to do with the temperatures outside, but rather the bitter coldness of the characters and their indifferent interactions was the cause of my hair raising goosebumps. The buildup to the court scene was interesting and fast paced, although the real climax is yet to come. The court petitions Khadeeja to appear in court, while Dr. Saad desperately tries to get Pakeezah to give her statement and to fight for the injustices towards her. He manages to convince Ramsha who was finally able to persuade Pakeeza; and the much awaited face off scene between Pakeeza and her mother was definitely one of the highlights of the show.
Aisi Hai Tanhai Episode 21-22 Review: Love is in the air for Hamza and Kinza, but will it last?
The cold war between Hamza and Kinza continued, and Hamza's unconcerned, uncaring attitude towards Kinza bothered me; it is not Kinza's fault that Pakeeza is now alive so why treat her like that? Hamza is angry at the world, his destiny and God for putting him in this situation. It was Hamza's decision to marry Kinza, he cannot deny that, so as a responsible, honorable man he has to uphold that promise. Also, man can plan however much they want, but Allah's plan is always the Best Plan, no matter what, and that is exactly what happened in Hamza-Pakeeza case. They were not meant to be together, for whatever reasons, and destiny brought Hamza and Kinza together instead, and perhaps Pakeeza was Hamza's bridge to Kinza?
To my utter delight, the Hamza Kinza scenes still had chemistry despite Hamza's rude attitude towards Kinza. Did he come to ask about her well-being only because Khadeeja had asked? Or is it okay for me to dream that he was genuinely concerned? It was also shocking to see the way Hamza ignored Khadeeja and even told her to leave if she wants to; which was quite a surprise considering Hamza's character we have seen so far.
The dialogue "Haq main jatana naheen chahta and faisla karna mere ikthyar main naheen" was profound, and meaningful showing Hamza's stance in the whole matter.
The scene between Pakeeza and Dr. Saad's sister was another powerful one, it actually summarized the purpose of this serial; that a woman who does not stand up for her rights and fights against injustice and brutality towards her, is giving the idea to her perpetrators that it is a okay! She made Pakeeza realize that hiding like a coward is not the solution, and that she needs to have the courage to look in the eyes of the people and the society that are the cause of the situation she is in now. Even if Pakeeza does not win this case, it will give a message, loud and clear; that a woman will not tolerate any injustice towards her, that it is time to stop exploiting her and cease the gender discrimination that is prevalent in our society.
Khadeeja's reaction when she saw Pakeeza alive in the court was profound, and the intense look they gave each other was meaningful. I still remember the scene when Khadeeja had fed her daughter poison with her own hands, and Pakeeza did not resist, not even for a second.
Khadeeja's torment has been visible in the last few episodes and I know without a doubt, that her purpose was not to punish her daughter, but to liberate her from the shame, name calling, and humiliation she would have to face for the rest of her life. It was a desperate mother's attempt to "save" both her daughters. The relief, guilt and disbelief was evident on Khadeeja's face the moment Pakeeza removed her niqab.
The writer's intent and position was made explicit with Pakeeza's dialogues during the court scene; that it is our society that is the main culprit, it forces women and their families to take drastic measures to save themselves from "shame and dishonor" that is endowed upon them. The fault lies within the society that continues to defame a woman while the man comes out squeaky clean.
Sami Khan gave a flawless performance as usual depicting Hamza's agony and despair with precision, making Hamza as believable as possible. Although, only present for a couple of scenes, he made his presence felt. Sonya Hussyn was brilliant and so was Saba Hameed and their stand-off scene was worth watching. Even Sadia Ghaffar made an impact today! I also want to mention that the actor playing the "rapist/Janitor" has enacted his role very well.
I believe that raising social issues including rape, violence against women and women empowerment in general are essential to a society that not only protects the perpetrators, but also shames the victims, and that too in the name of religion. The violence and brutality against the most vulnerable of our community, namely women and children, not only happens in Pakistan but worldwide at some level, be it rape, abuse, trafficking, or domestic violence. It is time to call out and say enough!