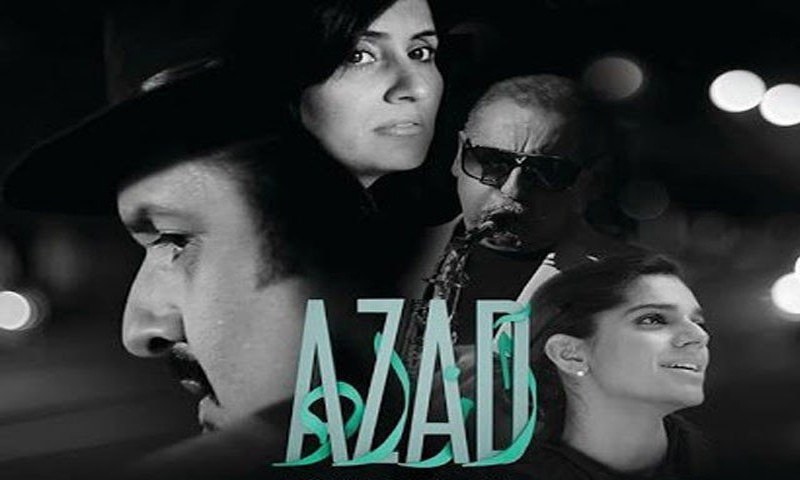 In an interview Anurag Kashyap, the famed Indian film maker, dared aspiring film makers. 'One can make a film with an Iphone, who is stopping you from doing so?' It is so easy to blame external factor but incredibly difficult to make a film. This problem magnifies in Pakistan's context where cinema culture is still in its infancy. We are still experimenting with film making and learning how to sell our films. As widely reported, a few production houses are making films with only a few actors. So, in 2017 we saw basic recycles of films which had seen success before. Well, that trend has been broken with Rehan Sheikh's Azad. Rehan Sheikh has co-produced and directed the film and has done a stellar job at it.
The film is about Azad, a character within the film played by the film character Dani (Rehan Sheikh). He is radio presenter, who considers himself an artist, free of the commercial demands of his jobs. His discussions range from human freedom to past relationships. He strikes a chord, with a select group of audiences but ends up at the boss's (Salman Shahid) room frequently due to his free spirited nature. There is also the comically passive aggressive line manager in Saadia (Sanaam Saeed). However, Azad in his own way, manages to keep the sponsor happy (there is a brilliant sequence on it) and hence his bosses cannot get rid of him. There is a friend Billo who seems to be a mirror to the thoughts of the audience towards Azad. He provides, a reality check of sorts.
While discussing past relationships with his listeners, Dani goes into his own past. We are introduced to Jia (Sabreen Hasbani). Dani and Jia ended their relationship 3 years ago and they run into each other by accident. The ambiguity in the relationship keeps the audience engaged. How they interact with each other, is brilliantly displayed and audience will feel a connection. Like the film, I shall retain the right to ambiguity. To find out what happens next, please go the cinema.
Salman Shahid as PK Sher, the owner, brings a distinct type of humour to the film. Sanam Saeed, also provides a sense of charm to the film. Sabreen Hasbani, is wonderful in a different role than what she is used to playing in TV drama. Rehan Sheikh has the required eccentricity for comedy situations and the intensity to deliver the deeper message of the film.
The pacing is one issue to a degree but the focus on content and subtly of the message more than make up for it. It is a carefully crafted piece of work. This is one Pakistani film, you shouldn't really miss.