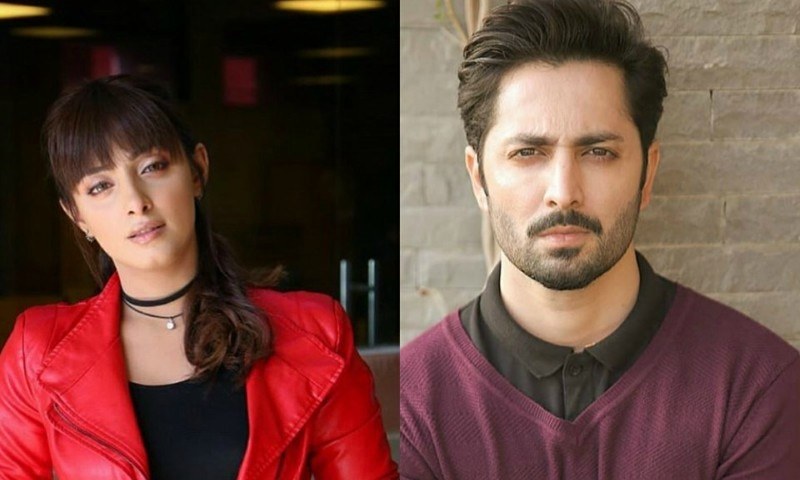 The stunning actress is on a roll these days by signing one play after another

There is a certain charm to actress Sanam Chauhdry which makes it hard to ignore her. After having a fantastic last year, she begins this one with the play Ghar Titli Ka Par and it was some time back that we bought you the news of her shooting a new drama called Ru Baru Tha Ishq along with Ushna Shah, Ali Abbas and Danish Taimoor. With the stills from the play looking great where Sanam is seen having changed her hair style as well to play Ayaan, it was her recent picture announcing another project of hers which made us want to contact the star to know more!
By now we are sure you all know that we love to get information about any new drama and so with Sanam busy once again with a new projcet called Ab Dekh Khuda Kya Kerta Hai, we managed to get hold of her who told us a bit about her role and of course her co stars.
Read : Sanam Chaudry joins the cast of 'Ru Baru Tha Ishq'
Starting with the directors name, Sanam told us, "It is being directed by Syed Ali Raza Usama, the man behind plays like Shayyad, Khalish and Khuda aur Mohabbat to name a few."
With this being enough of a reason to say yes to the drama as Sanam really wanted to work with Usama, we are sure the play will be a well made one under his watchful eye.
But wanting to know more about her character we question and Sanam revealed,"I play the role of the protagonist whose name is Maryam and she is from a lower class but she is very hard working and deals head on with the problems the society puts in her face."
Besides Sanam another actor whom we cant wait to see on the small screen is Danish Taimoor who will also be part of Ab Dekh Khuda Kiya Kerta Hai as she said, "My co-stars include Danish Taimoor and Humayun Ashraf. "
And even though we were curious to know who she'll be starring with, Sanam assured, she would be seen with both.
Read : Cameras are now officially closed for the Sanam Chaudhry and Noor Hassan starrer "Jackpot"
Talking further about the drama, Sanam told us that it was more along the lines of the saying, "As you sow, so shall you reap," making us look forward to this one for sure.
Sanam is already shooting with Danish on Ru Baru Tha Ishq, and now with this announcement the latest project has all our attention and we cant wait to see the duo come together once again.
With the shooting of Ab Dekh Khuda Kya Karta Hai having already begun, Sanam told us a very interesting bit of news as well about her upcoming movie Jackpot and its release.
"The movie will come out on this Eid," comments the actress.
Sanam has already started with a busy year. Last year saw her In dramas like Shiza and Badnaam to name a few but with her working extra hard on each role, it is not surprising to see her get better with each character she chooses to play.
So how will this latest drama end up being? Well that only time will tell; but we do know this that anything with Sanam Chaudhry on board is not to be missed at all!