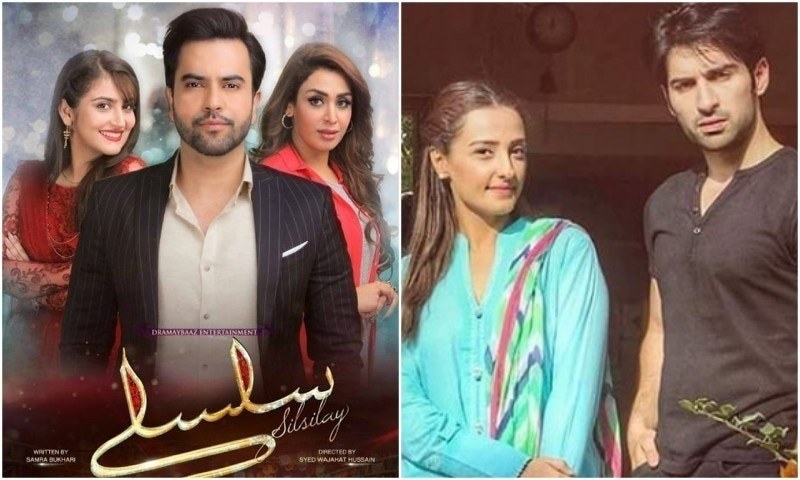 Seven episodes down we are in love with the play as its a combination of love, wit and family drama all rolled in one
There comes a time when all one really wants to do is put up the feet and enjoy a simple drama which is not too complicated yet has an intriguing story line. And Silsilay on Geo TV is one such drama. With a very strong cast including Junaid Khan, Momal Sheikh, Hiba Bukhari and Muneeb Butt, Silsilay is a play that keeps you hooked with its simple yet beautiful story; perfect blend of witty dialogues , love , loss and emotions.
Written by Samra Bukhari who impressed us with her play Bholi Bano, Silsilay has the quality to keep viewers hooked till the end as it is a feel good drama which shows emotions in the most natural way as well as take us back to the time when neighbors were very much part of the household; as can be seen through Shahzaib (Muneeb Butt) who walks in and out of Abiha (Momal Sheikh) and Hira's (Hiba Bukhari) house as if it was his own.
Read : Junaid Khan, Momal Sheikh and Muneeb Butt pair up for 'Silsilay' on Geo
But what is the story all about ? Well let us fill you in.
Abiha and Hira's mother played by Shagufta Ejaz gets abandoned by her husband who is not a good man, and with no roof over her head she moves in with her elder sister Naila ( Seemi Raheal) along with two small girls who now are grown up and as mischievous as ever. With Abiha being the responsible one she is always seen backing her younger sister Hira and together they face quite a lot of scolding from Naila Khala who is also a principal and from time to time makes them feel how she is doing them a favor by letting them stay with her.
With Hira being more emotional and expressive she is often seen thinking about why do they live with their Khala and surely there would have been some one else whom they could depend upon? But with her mother telling her time and time again that they had no one Hira has no choice but to remain quiet. Their mother does most of the house work to ensure they are not living off her sister for free but Naila is sure to remind them of her favor every now and then.
Now, how is it that one sister is a principal while the other cant even read properly is a mystery to us but as the play progresses maybe this confusion will be sorted out; but the beauty of Silsilay as we said above lies in its simplicity as the relationship between Shahzaib and Abiha is very cute. Despite her having feelings for him, Shahzaib just thinks of her as a very good friend with whom he shares everything even his latest crush which breaks Abiha's heart.
Read : Teasers of drama serial 'Silsilay' look extremely promising!
Besides the family politics which does die down at times as Naila mellows down and loves her nieces, issue arises when her son Jawad (Junaid Khan ) returns from America and announces how he wants to marry a girl called Ujala (Sara Bhatti) which leaves Hira heart broken.
Now the reason why that happens is because Hira has loved Jawad all her life and deep down inside wished for them to be together but Jawad just thinks of her as a little sister whom he does pamper and even saves when his mother gets too angry with. However, to fall in love with Hira is something he has never thought about.
Even though Hira's mother does think that it would have been ideal if her sister thought of her daughter as a possible daughter in law but with reality setting in, she realizes that due to her husband's background Naila apa would never even consider such a proposal.
On the other hand, Shahzaib lives with his brother and Bhabi. His elder brother Wahab adores him but his bhabhi has a few tricks up her sleeve against him. And since Shahzaib, just like Abiha and Hira has no one, the trio are great friends and he even knows how much Hira loves Jawad but he never discloses the fact to Jawad, with whom he is very close.
With Hira against Jawad and Ujala's marriage, Abiha tones her down and reminds her not to make a fool of their mother. However Hira hears how Ujala planns to take Jawad away from everyone, she tells everything to her family. Now what will happen next? Will Hira get a scolding once again from her Khala or Jawad will say something, is what we cant wait to see next week.
Besides a interesting story line, another thing which works for Silsilay is the combination of fun and soberness blended together as Shahzaib, Hira and Abiha know how to have a good time and from teasing one another to playing pranks together they remind one of how a boy and a girl can be good friends too. Due to the wonderful on screen chemistry between these three actors, we thoroughly enjoy seeing them in each and every scene.
Junaid Khan always impresses as he has that personality which makes each character of his stand out and Hiba Bukhari is a reminder of Shehnaz Sheikh who can do lighthearted as well as serious scenes with ease. We hope that we get a chance to see Junaid and Hiba paired up together later on as their pair along with Momal and Muneeb is very fresh. The weakest link in the play is perhaps Sara Bhatti., who looks good no doubt, but acting is definitely not her cup of tea as she is too stiff in her dialogue delivery.
So if you want to see a beautiful story mixed with lighthearted moments and emotions then do give Silsilay a watch every Tuesday night at 8 pm.