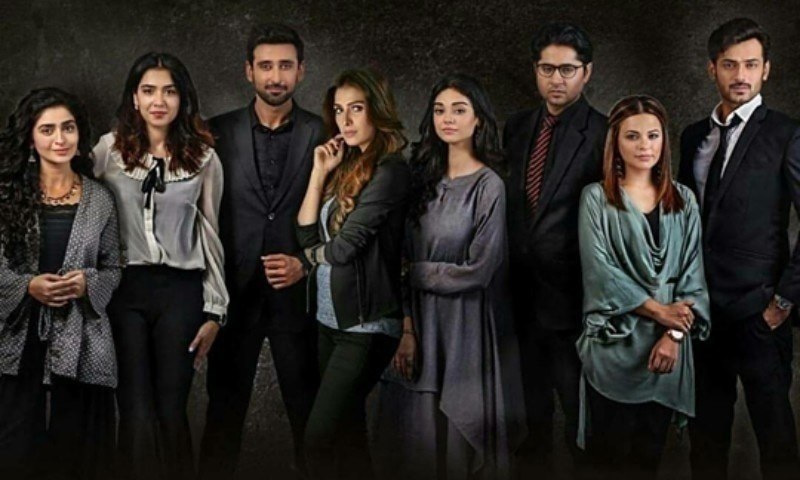 Tau Dil Ka Kya Huwa gave us a modern, unconventional and a contemporary take on love, friendship and relationships

The web that the writer Khaleel ur Rahman qamar spun unfortunately did not fully untangle even in the last episode of Tau Dil Ka Kya Hua, with a lot of questions unanswered. The relationships were too complicated and not simply put forth before the audience, making it ever so confusing. I still don't get how exactly Siraj Uncle is related to Dariya and Faris, and how are Dariya and Faris related?! It's just too complicated, and the more I think, the more puzzled I get. While watching the last episode, I constantly had to ask myself "wait now who's Shehnaz again and how is she related to Sarwat Chawla? Too many characters? Yes! Too entwined? Yes! Yes! It is like solving a jigsaw puzzle which I'm not able to! Also, the background score was way too loud throughout the play, making it extremely difficult to discern some of the dialogues.
The Chawla family tree is even more difficult to understand, and time and again I found it exhausting keeping up with all the names, relationships and how they are all related to each other. In this very last episode I found out that Siraj Uncle's last name is Ahmed. I still don't know their relationship. Perhaps, fewer characters and slightly simpler explanations of the relationship would have been the way to go. The ending seemed rushed and a few more scenes were needed to explain things better.
In the middle somewhere the narrative started to meander and then got back on track in last few episodes. The Tipu and Maya track was interesting and acted very well by both the actors, with some strong performances and memorable scenes. Imran Ashraf's Tipu has created a place in my heart, and will remain engraved in my mind for a long time to come. Although, his story started after several episodes, he was still able to connect with the audience and depicted a rather difficult character with utmost ease. His chemistry with Maya was amazing and their scenes together were some of the best of the entire drama.
The last episode had its strengths and weaknesses. Some of the mystery was finally solved, but I found myself very confused after the Siraj Uncle and Faris conversation after Saif's death. Also, I believe that a couple of more episodes were needed to pull everything together, and tie the ends, which this ending desperately lacked. There were still some loose ends that needed additional exposition. Maya's change wasn't shown explicitly, and it was left to the viewer to imagine the transformation starting from the time Tipu divorced her and said his final goodbyes. If you think back, it was at that moment she had started to mellow down, but it wasn't clear.
Saif's character was the least developed, and though I know Zahid Ahmed's acting wasn't mind blowing, and I wonder if a better characterized Saif would have made a difference. There were still many unanswered queries about Saif even after his death, which should not be the case for an antagonist of a story. Shehnaz's change of heart didn't make sense either, and I still don't know how she came in between Tipu's mother and Abro? And is Tipu's mom dead too? Was Saif's mother shown in the end?
That being said, the strength of this play was definitely the wonderful direction, the meaningful script and dialogues, and phenomenal performances by almost everyone. Rehan Sheikh was amazing as Siraj Uncle, giving his best, and he shared excellent chemistry with Sami Khan, Mansha Pasha and Hajra Yamin. With portraying the unique relationships Faris had with all three women in his lives, love was definitely shown in an unconventional way. Mansha Pasha came back in the last episode and I was truly disappointed that Dariya revealed that she is still unmarried, but why? I get it that she loves Faris but that doesn't mean that she will never be able to love again. I honestly wish that it was shown that she has moved on; it would have conveyed to the audience that love can happen twice, and you CAN move on.
Tau Dil Ka Kya Hua Episode 24: The question of the decade: who will become Faris's better half?
I especially loved Maya's scene with Faris and Ayeza Khan was totally in character and absolutely brilliant. The dialogue "main nahi hogien to mere jaisa he koi hoga, lekin Lubna nahi hogi" still resonates within me. Everything that happened was all Allah's plan and perhaps she only meant to be a bridge between Faris and Zoya. Although I was disappointed that Maya left for London, I was happy that she wrote in her letter that she will see Zoya after a few years and I was hoping she would add "and I want to see little Faris with you when I see you after some years." I also think that Zoya always loved Faris, even when he was married to Maya.
Hajra Yamin has been outstanding throughout and today was no different. I love how she has understood the character of Lubna and conveyed it on screen. She also had some amazing scenes today, the hand gesture and a smile she gave to Maya was heartening and the way she embraced both Siraj Uncle and Faris was endearing. It was not an easy character to play, and she did complete justice to it.
Noor Khan was probably the weakest link in this amalgam of powerful performances, but frankly, in my opinion she had the the best chemistry with Sami Khan among all. Again, I'm probably the odd one, but I think that Zoya and Faris had a sizzling chemistry without speaking much to each other; the proof being that some of the cutest, most romantic, "make your heart skip a beat" scenes of this drama were between these two. And today was no exception! Didn't their phone conversation make your heart beat way too fast and then melt? Mine did.
Faris's character was like I always said, the most developed, and the most confusing. He was shown as an indecisive man, who's decisions were eventually made by the women he befriended in his life, who helped him get to his final objective in life. His conversation with Siraj Uncle made me realize that he had been yearning for love throughout his life, that he would anchor his ship wherever he would find a spot, in order to steady his wavering heart and to stay afloat. He knew he loved Zoya but due to his ego, he was willing to let her go and marry Lubna instead! Oh and did I mention I loved their conversation on the phone? It was super cute! Sami Khan was undoubtedly the star of the show, and I don't think anyone else could've portrayed Faris as convincingly as him. I still remember some of the brilliant the scenes he gave us, like the time when he divorced Maya, when he followed Zoya to her college to talk to her, his office scene and the firefly catching scenes with Dariya, his friendship scene with Lubna to name a few, and they were all fantastic!
Tau Dil Ka Kya Hua: Bold or ridiculous?
Admittedly, Tau Dil Ka Kya Hua wasn't Khaleel Ur Rahman's best, but it did give us a modern, unconventional and a contemporary take on love, friendship and relationships. The profound, meaningful dialogues were par excellence and the superlative performances added to the aesthetic experience of watching this play. The overall appearance of the drama was ultramodern and realistic without going overboard. Although tedious and repetitive somewhere in the middle, I, overall enjoyed the experience and was beyond happy that after much pursuit, Faris eventually found his true love and soulmate!