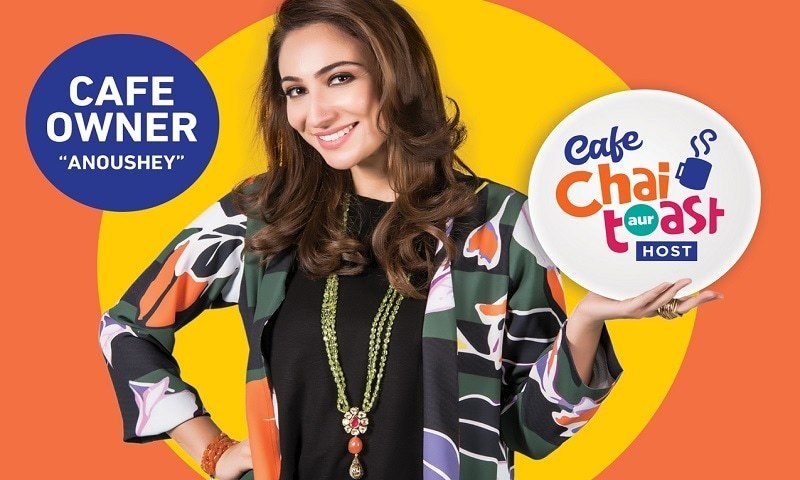 The new season of "Chai, Toast Aur Host" will see Anoushey Ashraf being focused on running her own cafe

A unique show that has been trying, and very successfully indeed, to break the monotony and typical mindset of morning shows, Dawn News' "Chai, Toast Aur Host," is returning with its next season. The new episodes will see the progressive house-owner, Anoushey Ashraf, embarking on a new venture by running her own cafe with the assistance of her house-mate, Ayesha Abraar, a chef and nutritionist by profession.
All set to go on air from the 12th of March, 2018, Cafe Chai Toast Aur Host will also present Chef Shai, who shall be returning back on television after a period of 4 years. As Anoushey puts her mind to work involving designing, prepping and getting everything ready for her new cafe, she consults Chef Shai to provide assistance in designing the menu. Along with Chef Shai, four other interesting characters will be joining Anoushey on her journey to becoming a successful entrepreneur.

Cafe Chai, Toast aur Host will render a progressive transition from an ordinary café to a social café by description where guests from all walks of life, including new entrepreneurs (who are in search of a platform to showcase their work), upcoming artists (looking to perform), prominent personalities and celebrities will grace the social setting of the cafe with their presence while providing the audience with wholesome entertainment and food for thought. It will offer a platform to artists, stand-up comedians, designers and entrepreneurs to showcase their work and highlight social issues that often go unnoticed.
With surprise walk-ins, trending topics and special à la carte menu, the Executive Producer of the show, Kiran Yazdani and her talented team at Dawn News have plans to take the new season to new heights and set a new trend in the monotonous programming of morning shows. Providing the audience with an all new setup and a fresh concept, Cafe Chai, Toast Aur Host will go on air from the 12th of March.