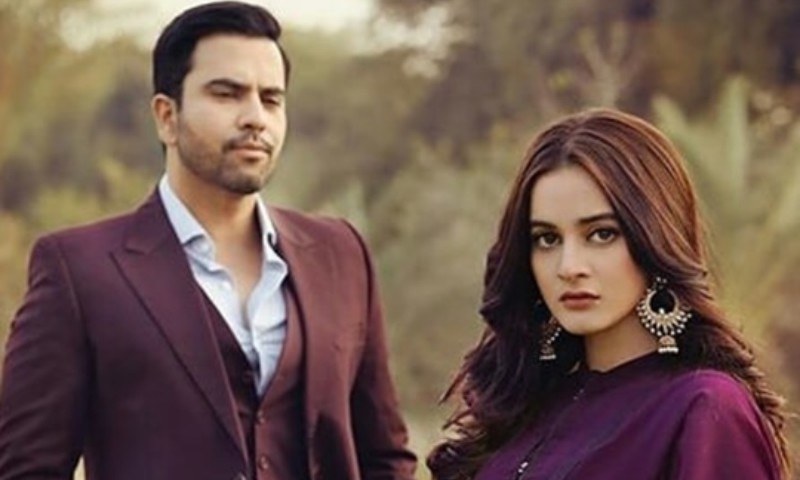 The drama is a must watch due to its simple yet engaging story, and of course, because of its talented cast
Currently being aired on Hum TV, the drama serial titled, "Ishq Tamasha" is becoming one of Sunday's favorites for many owing to its simple yet engaging storyline. Written by Misbah Nosheen, "Ishq Tamasha" is a simple story revolving around not-so-complicated dialogues and beautiful execution.
Speaking about the characters in the story, one of the leading roles is being played by Aiman Khan who appears as Mirha in the drama. Mirha lives with her paternal aunt (being played by Saba Faisal) who hates her and shows it every second of the day; however, her daughters love Mirha and make up for their mothers' rudeness towards this sweet girl who has no choice but to live with them as her parents have passed away .
Read : An intense teaser of Ishq Tamasha makes us want to watch the drama soon!
With Rushna (Kinza Hashmi) being super friendly and the eldest among daughters, she enjoys a great rapport with Mirha who does go to college with them but has to do all the kitchen chores once she returns home.
On the other hand, there is ultra-rich Mehrab (Junaid Khan) who too has lost his parents and lives with his aunt and younger brother, Arham (Faizan Khawaja) who is a spoilt brat but he is never being rude to either of the two elders.
While Mirha is seen to be crying at times, Mehrab and Arham have a peaceful life.
So, how are these characters connected to each other? From what we have learnt from the episodes so far, Rushna wants a life of luxury. While she's busy shopping and trying to buy a brownie one day, she comes across Arham who fell in love with her at first sight. In order to please her, Arham sends her an entire chocolate cake from where their romance blossoms.
With the two beginning to talk on phone, Rushna does not reveal her own name but uses Mirhas identity instead, which puts her in deep trouble with aunt as she sees a package arrive for her and despite Mirha pleading she knows nothing the strict aunt does not believe her. Rushna, on the other hand, feels guilty for what she has done.
But the couple whom we want to see together is Mirha and Mehrab who only met for a second and nothing special happened between the two.
According to the promo of the next episode, it seems that life is going to get tough for innocent Mirha as her aunt gets her engaged in haste; however, we still wonder if she will end up marrying someone else or will destiny lead her to Mehrab.
Read : Sanam Marvi & Sanwal Esakhelvi create magic with Ishq Tamasha's soundtrack
Talking about the performances, Junaid Khan does not disappoint at all as he carries himself with grace as needed for a character like Mehrab who is well educated and quite wealthy. Aiman Khan has also performed well as she possesses the quality of getting deep in to her character which makes the play more interesting. Moreover, Kinza Hashmi and Faizan Khawaja also fit perfectly into their roles in the drama.
A story revolving around emotions, Ishq Tamasha is a great addition to our must watch dramas list as it keeps us glued to the screens on Sundays.