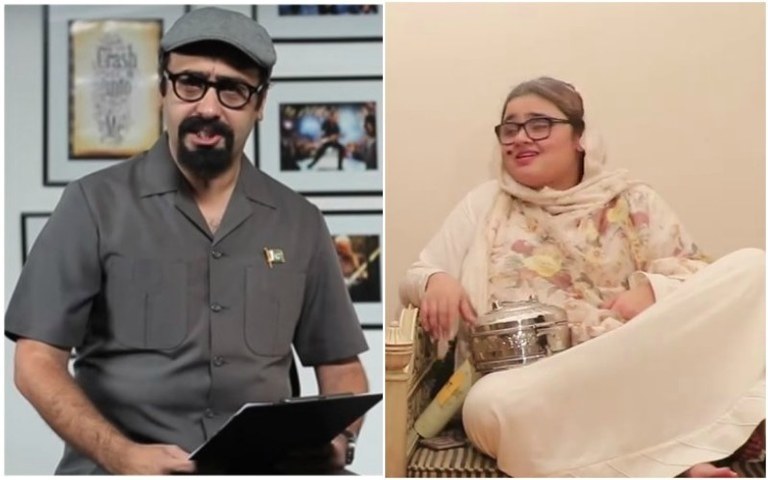 The digital trend is on a rise these days. In fact, the world of social media is buzzing with various news and happenings every minute rather than television or film even if put together. The power of viral content on social media is undeniable, and therefore, a number of our very own celebrities have resorted to ensuring that they should have a strong presence in the virtual sphere. Renowned celebrities like Wajahat Rauf, Samina Peerzada, Sohail Javed, and Faiza Saleem are putting social media to good use by creating amazing content that is liked by the masses.
We absolutely love how the artists look so candid online and answer questions without any repercussions. Let us explore more about these celebrities and their online shows:
Wajahat Rauf's Good Question with the Voice Over Man
It all started when Wajahat Rauf got into the character of the Voice Over Man and interviewed Aisha Khan in a digital show. What ensued was a chain of hilarious interviews that gave us fits of laughter, seeing our favorite celebrities indulge in a candid conversation with Wajahat Rauf and the fantasies of the Voice Over Man.
The Voice Over Man's interview with Ayesha Khan has us in fits of laughter
Meet Up with Sohail Javed
If you are the one who takes delight in watching a talk show that actually gives you an insight into celebrities' lives, Meet Up with Sohail Javed is a show, which is not to be missed.
Rewind with Samina Peerzada
From troubled marriages to complicated love lives and chaotic work pressures, Samina Peerzada extracts out whatever information the fans would love to hear from their favorite celebs. The woman is a veteran when it comes to throwing questions and her online show is absolutely a must-watch!
Doodhpatti with Dadi by Faiza Saleem
Faiza Saleem is a whirlwind of energy that engulfs her celebrity guests completely. Doodpatti with Dadi is an extremely hilarious show offering moments of fun and spot-on sarcasm with Faiza Saleem in her get up as Dadi.
Social media is addictive and so are these digital shows online. What we love about them is the fact that they happen to be candid, very open and have celebrities talk about anything at all. At least, Pakistan Electronic Media Regulatory Authority (PEMRA) doesn't come barging in here when someone talks about virginity, love, or just about anything at all. Also they aren't time bound so you get to watch your favorite episode according to your own convenience. In a country like Pakistan, the influx of online shows is a great change and it is good to know that celebrated directors and artists are focusing on showcasing their versatility and creativity through such shows. We, for one, are all in favor of these online shows and the rising trend of digital interviews.
What's your take on it? Do not forget to tell us about your favorite digital show in the comments below!