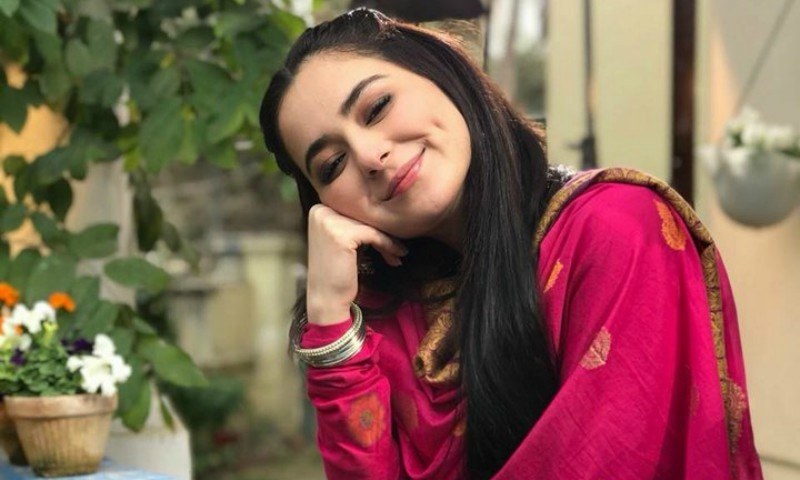 "Pari" is different because she knows that she needs to stand up for herself, differentiating between right and wrong."
The first time we saw Hania Aamir was in the movie "Janaan," which also earned her a Lux Style Award for Best Supporting Actress as she stood out for her immense talent, and not to forget, her natural beauty. Plays like "Titli" and "Mujhay Jeenay Do" further made the audience realize about her versatility and flair for acting. Hania Aamir will soon be coming to the screen again with a play being produced by Big Bang Entertainment called "Visaal." Starring Zahid Ahmed as the co-star, the play is all set to go on air in March.
Written by Hashim Nadeem whose play Khuda aur Mohabbat is still our all-time favorite, we were curious to know as to what this play entails, and therefore, we got in touch with Hania to know more about her character as Pari in the drama serial.
We asked her if what made her say "yes" to the project to which she replied,
"I wanted to do this play firstly because of Fahad Mustafa, and secondly because of Ali Hassan, director of Muqabil. I was very excited about that. Also, the script as well as the character sounds exciting as she is very strong although she might come across as somebody who is very innocent."
Read : Hania Aamir chats with HIP on her fascination with Bollywood and what's next
Speaking more about how the role of Pari was different from what she has played so far, Hania revealed;
"Pari is a very simple girl. Although, I have played the role of an innocent girl before but Pari is different because she knows that she needs to stand up for herself and she can differentiate between right and wrong. Besides, she also has the power to say it out loud."
While Hania has already expressed her excitement about working with Ali Hassan, we further asked about her experience to which she said;
"He is awesome and definitely one of my favorite directors up till now. He is fun to work with as he gives you the freedom and doesn't let you get tired. While working with him, you always feel so energetic and it is always a lot of fun."
Besides Visaal, we are also looking forward to watch Hania Aamir on the big screen with Parwaaz Hai Junoon as we are pretty much sure that Hania is a star who knows how to shine on any medium with her sheer brilliance.