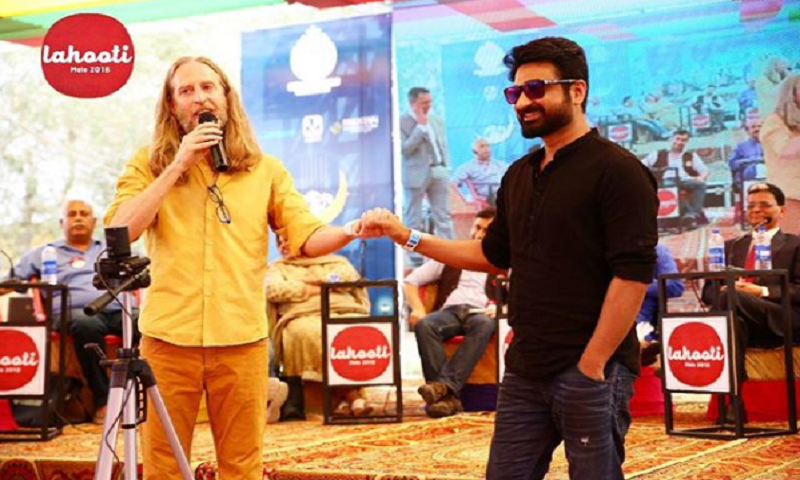 "We are not telling stories, we are doing circus. Everyone jumps around and then goes home," says Jami Mahmood
The 3rd and 4th of March this year saw Hyderabad celebrating the third edition of the famous Lahooti Melo, a major festival that celebrates art, culture, film and music in hardcore forms. The festival saw a number of panel discussions between artists, scholars, poets, musicians and filmmakers from all over Pakistan and what ensued was a round-up of some of the most interesting points to come out of panel discussions.
Lahooti Melo gears up to dazzle Hyderabad on the 3rd and 4th March 2018
The highlight of Lahooti Melo had been a very interesting session that revolved around storytelling. Titled Folklore Finesse, the session was moderated by Sikander Ali Hullio and included well-known scholar and linguist, Fahmida Hussain, film-maker Jami Mahmood, American poet and spoken word artist, Timothy P McLaughlin and director Khalid Ahmed.
The discussions revolved around storytelling, various aspects of folklore and their adaptations in modern media. Khalid Ahmed spoke about the ideas for storytelling; whereas, Fahmida Hussain highlighted the differences and confusions between folklore and myth while speaking about the usage of historic fiction to educate masses about the region's history.
Jami Mahmood, on the other hand, talked about the current situation of the local film industry.
"I always say that this recent rise in the number of films is more like a rebirth than a revival of cinema. What we need to realize is that film-making isn't an entertainment industry, it's a storytelling industry. But of course, we are not focusing on that and by doing so, we are reviving it in a horrible way. Just because it makes money doesn't mean we are doing it right," he said.
Adding to it further, Jami made a cynical remark saying, "We are not telling stories, we are doing circus. Everyone jumps around and then goes home."
While Jami could be right, we would like to know about your opinion too. Is the real spirit of storytelling dead? Do share your views in the comments section below.