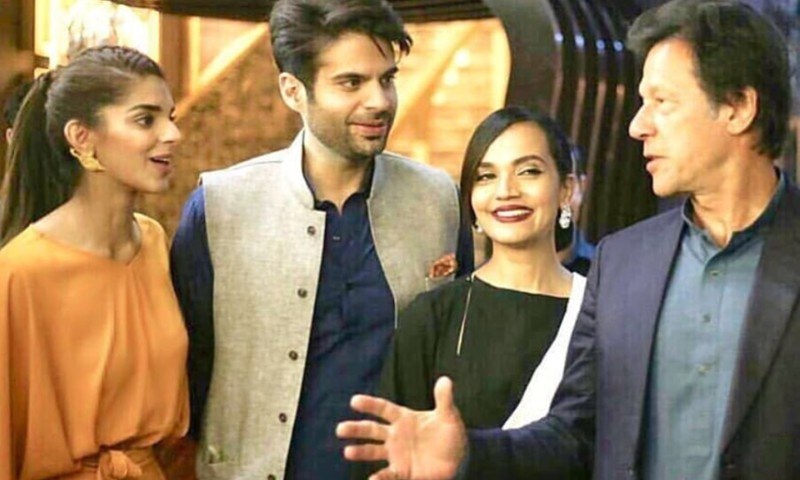 Ever since the trailer of Cake the film released it has been gaining a lot of rave reviews. The film has succeeded in making everyone, including us, anticipate its release as Cake seems to have been shot very well with a story which hopefully will not be a drag. And now, with Imran Khan, who seems hard to impress, giving Cake a thumbs up, expectations are at a all time high from the upcoming film.
With a special screening held for Imran Khan in Islamabad where the cast, including Sanam Saeed, Adnan Malik and Aaminah Sheikh were present for the promotions of the movie, it seems, Cake succeeded in winning hearts of the politicians and those in attendance. Impressed by what he saw, Khan took to Twitter to praise the film.
"Impressed by both the acting and quality of the film. We have immense untapped potential in the Pakistan film industry," tweeted Khan.
Where we have never seen Khan at a special screening of any film earlier, it feels nice to see him relax a bit and mingle with actors and actresses for a change.
Read : Cake becomes The First Pakistani Movie To Have A World Premiere In London's West End
Cake is also gearing up to be the first Pakistani film to have a world premiere in London's West End. The film is a family drama, produced by Indus Talkies and ZAB Films and is distributed internationally by B4U Motion Pictures and in Pakistan by Excellency Films.
Cake deals with love, loss and responsibilities as the aging patriarch of the Jamali family is taken ill and his eldest daughter and sole caregiver, Zareen, is forced to reconnect with her sister, Zara, on her return from London.
With Cake all set to release on 30th March, this is a movie which we cant wait to watch and review!