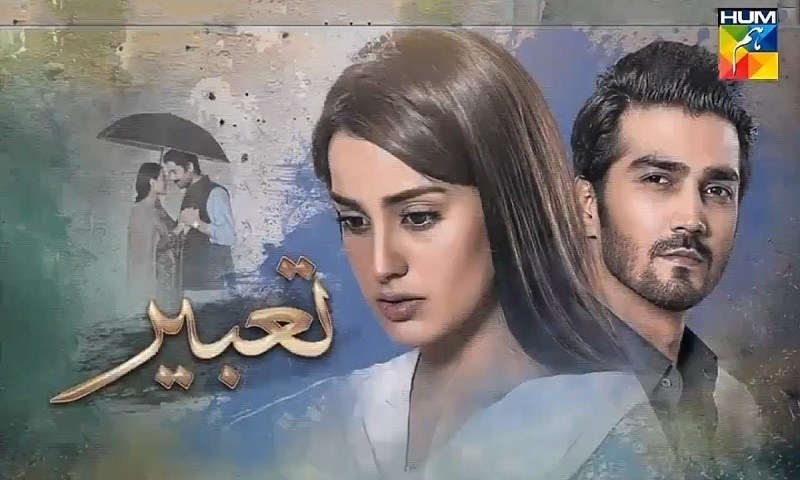 The relatively new serial by Hum TV, being produced by MD productions, directed by Ahson Talish and written by Imran Ashraf, "Tabeer" is simple, sweet and interesting.
The story is about two couples and how their paths will cross eventually. Yasir (being played by the talented Imran Ashraf) is married to Tabeer (Iqra Aziz) and belongs to a lower socio-economic status and works for the rich businessman shown as Fawad (Shehzad Sheikh).
Fawad is married to Zarnish (Eeshal Fayyaz) apparently, without the approval of his mother, who does not leave any opportunity to taunt Fawad about preferring his wife over his mother. It so happens that both wives are pregnant as well. But their happily ever after is destroyed when Fawad finds out that his wife is suffering from a stage 4 metastatic retroperitoneal sarcoma which is untreatable as per doctors' say. Yasir, on the other hand, dies in a car accident leaving a devastated Tabeer to fend for herself.
There are also a couple of other interesting characters including Ali Safina playing Yasir's cousin's role and Sanya being played by the gorgeous Hajra Yamin, who apparently loved Fawad at some point which was not reciprocated. Ali Safina's character is that of a deceitful person, who hates Yasir because he had married Tabeer. He wanted to take revenge at any cost but now that Yasir is no more, he will try his best to marry Tabeer, as far as what I think. Zarnish, knowing she is about to die, calls Sanya to meet her for one last time. It is apparent that they have never met each other but Zarnish somehow knew about Sanya's role in Fawad's life. I am looking forward to see what Zarnish has to say to Sanya in the upcoming episodes.
Read: In Review: Excellent dialogues and brilliant execution make 'Tabeer' a great watch
The story is uncomplicated so far, yet it manages to keep you entertained with its simple narrative. The narrative so far has been build up to the storm that will engulf the lives of both Fawad and Tabeer. Imran Ashraf and Iqra Aziz share sparkling chemistry, and the endearing romantic scenes between them were a delight to watch, coupled with the melodious OST in the background. Imran Ashraf has proven his versatility yet again, and I had not imagined such fire-cracking chemistry between him and Iqra. He, without a doubt, brought Yasir's character to life, and transformed even a plain scene into an exciting one with his performance. Yasir and Tabeer shared some sweet, romantic scenes and it was a delight to see their flashback moments as well after Yasir's death. I hope we continue to see them as Tabeer reminisces the pleasant moments they had spent together. Iqra Aziz has done complete justice to her character as well, and I am eagerly waiting to see how she will fit into Fawad's life.
The drama is moving at a fast pace and I hope it continues that way, and does not fall prey to the "dragging phenomenon" like every other serial out there. The direction is top-notch with attention to little details. I especially love how the romantic scenes between Yasir and Tabeer have been picturized and executed with subtlety, soothing your inner soul with love and tenderness especially the rain sequence was picturesque with Yasir and Tabeer under one umbrella, giving the scene an amorous ambience without being vulgar.
The promo shows that Yasir's grandmother will die as well, leaving Tabeer all alone without any financial or emotional support. I have a feeling that her cousin will take this opportunity to make advances and she will be saved by Fawad. Fawad's wife will pass away as well, but will his child survive? How will Fawad and Tabeer get over the pain of losing a loved one? Will they fall in love with each other? Will they be resilient enough to survive the tempest to see the sunshine after? To see how Fawad and Tabeer survive the trials and tribulations of their lives, tune into Hum TV on Tuesday nights and watch one of our newest favorite "Tabeer."