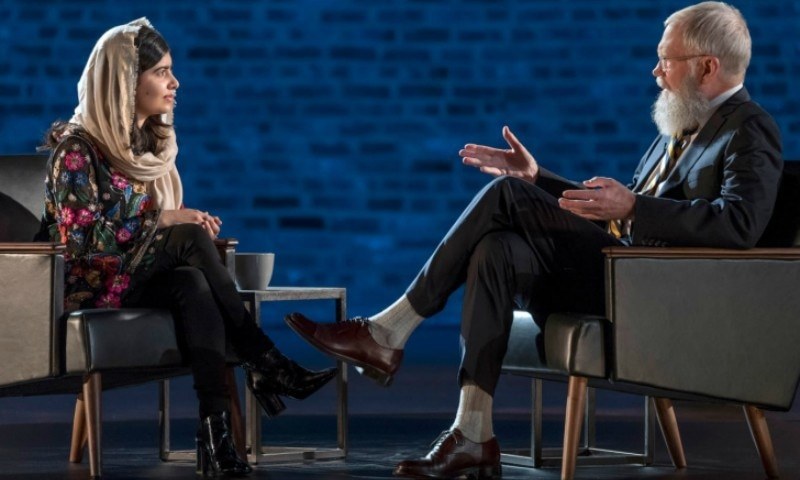 Being telecast on Netflix, the interview presented the wittier side of Malala, which we had never seen before
Racking up a list of huge achievements in so little time, getting a book published, having the life story depicted in a high-end upcoming Bollywood movie and listed amongst the most influential female leaders in UK in the Harper's Bazaar UK anniversary edition, Malala Yousafzai has done tremendous work for girls' right to education. In one of the recent shows being hosted by David Letterman titled, "My Next Guest Needs No Introduction," Malala Yousufzai was invited as a guest to mark the celebration of International Women's Day. Earlier, the show had also invited Barrack Obama in an episode!
Being telecast on Netflix, the interview presented the wittier side of Malala, which we had never seen before. The show also discussed some serious issues pertaining to women's inequality as well as what would have happened if Malala had not survived the brutal attack on her life.
Read : Apple's Tim Cook and Malala Yousafzai announce landmark partnership to expand reach of Malala Fund
"I would hope that many people would have stood up and stood up against extremists, against not just the extremists, not just the people, but against the ideology," Malala said.
Adding to it further, she commented;
"The ideology that exists there, that does not accept women as equal to men and that does not accept women to have the right to education, have the right to do a job, to decide our own future; we have to fight against this ideology, whether it exists in the mountains of Pakistan, whether it exists in big cities like New York, Washington or anywhere, we have to challenge those."
She spoke about how she has forgiven the attackers because she believes in forgiving. "The people who targeted me and tried to attack me, I forgive them because that's the best revenge I can have," she said.
Read : Malala Yousafzai makes it to the Bazaar 150 Visionary Women list
With us loving her way of thinking, another thing that caught our attention was her opinion of Donald Trump. Malala told David that she still misses Swat, which she calls as "Paradise on Earth." While listening to her, one could sense that she still cherishes her roots and no wonder, this could be the reason that she has achieved so much at a tender age.