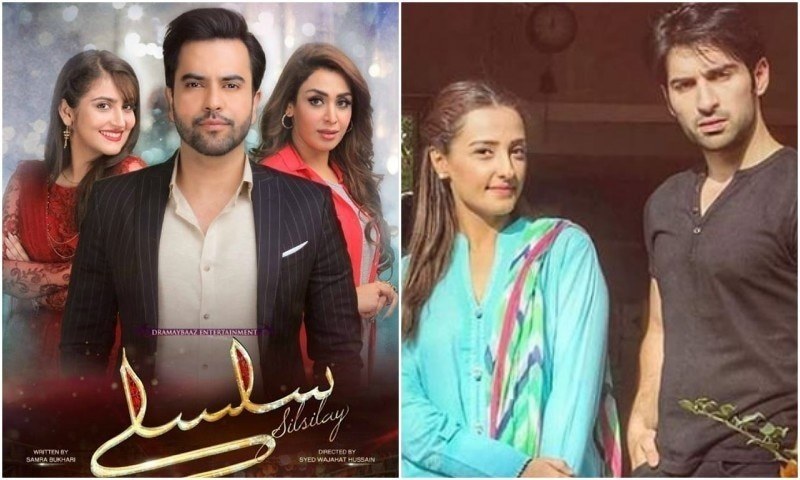 The duo share an amazing on screen chemistry and made us fall in love with their silence last night!
Our Tuesday nights are never over till we have seen the latest episode of the drama Silsilay which has a multi star cast as well as story worth catching up with. Even though Silsilay has a quite simple story but it is written so well that it compels you to see what new is going to happen with Abiha and Hira week after week.
Writer Samra Bukhari, is some one who believes in keeping the plot simple as we have seen before even in Bholi Bano. However, by using dialogues which are penned from the heart, it is her realistic approach to the story which has made all the characters in Silsilay feel like a member of our own family as their successes and hardships seem to affect us too.
So what happened in the episode aired last night ? Well read along to find out .
Read : In Review : Silsilay gains your attention due to its simple yet engaging story
Shahzaib (Muneeb Butt) is madly in love with his Bhabi's (Mehjabeen Habib) sister Ruhi and she loves him too so with the two families becoming aware of this fact what remains to be seen is whether Ruhi's father will allow his second daughter to marry within the same family or not. It is against the tradition of their family to have two daughters marry brothers but with Shahzaib's bhabi determined to make this wedding happen, it was very cute to see her come up with ways to convince her father.
However, Abiha (Momal Sheikh) is deeply hurt eversince she found out Shahzaib has feelings for Ruhi. She is heart broken but out of the two sisters she is the much composed one and does not let her emotions run her actions. Abiha has been dealing with situations with a lot of maturity and we love her for that.
But where Abiha is quite sober right there Hira (Hiba Bukhari) cannot be diplomatic and makes sure that Ujala (Sara Bhatti) knows exactly how much she hates her. Hira has loved Jawad (Junaid Khan) all her life and to now see him marry someone else makes Hira's blood boil hence the rudeness towards Ujala who by the way is no saint herself. But since Jawad is much older then Hira he so far only thinks of her as a little spoilt sister.
Read : Teasers of drama serial 'Silsilay' look extremely promising!
With Ujala and Hira at times having it out we have seen Jawad get upset when Ujala accused her of stealing her purse and later on finding out it didn't get lost. It was at that moment of silence between Hira and Jawad which gave the hint that maybe he liked her too but could never say it directly to her. If its so, why is that? This is something which is keeping us hooked to the play as the onscreen chemistry between Junaid Khan and Hiba Bukhari is simply amazing.
Hira also knows that her father is still alive and that her mother (Shagufta Ejaz) continues to get black mailed by him. But how long will this last, is what we hope to see soon as Hira is hell bent on leaving her Khala's (Seemi Raheal) house because Ujala is making life tough for her.
So a lot still going in with its 11th episode having aired, the beauty of Silsilay lies in the fact that there is never a dull moment in the play. Everything flows quite naturally which does not bore you even for a second and the credit for that goes to the director Syed Wajahat Hussain.
As we have said before Hiba Bukhari is impressive as she reminds us of Shehnaz Sheikh but along with her Momal Sheikh is doing a fantastic job as well as Muneeb and Junaid. Shagufta Ejaz and Seemi Raheal need no praise as they are in a league of there own but the only person who fails to impress even now is Sara Bhatti as acting is definitely not her forte.
So a blend of emotions, family politics, love and heartbreak Silsilay is our Tuesday favorite and we cant wait to watch it every week at 8 pm only on Geo TV.