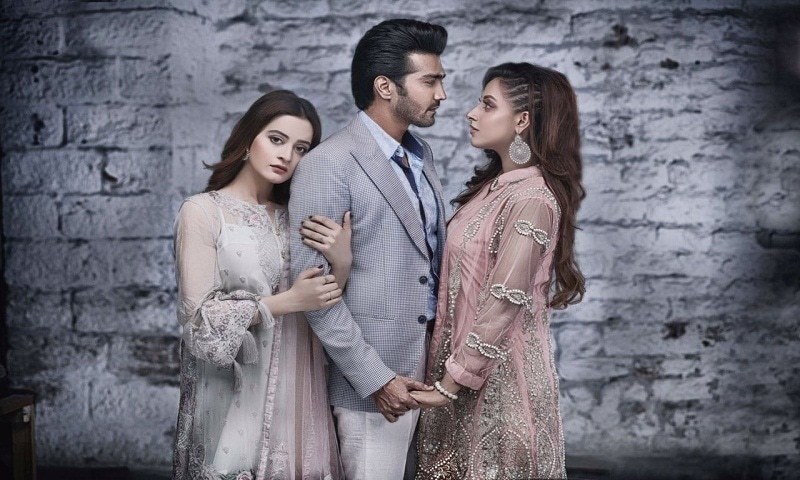 It has been a while since we last reviewed "Ghar Titli Ka Par," which has managed to keep viewers enthralled and entertained for the whole time. The story is not without flaws, and perhaps could be called banal; however, it is still going strong even after twelve episodes, and has managed to strike a chord with the audience due to its presentation, script, performances and character development.
Sanam Chaudhry is definitely the show stealer. Her role as Anji is of the conniving, malicious girl belonging to a lower socio-economic status who wants to become rich by hook or by crook, and therefore, she is in search of a rich husband which she finds in the form of her friend Shafaq's brother called Kamran. Shafaq belongs to a well-off family, and therefore, Anji being clever enough discerns this as an opportunity to make her dreams come true, and tries to seduce Kamran. Now here's the catch; Kamran is already engaged to his cousin Erum. But the unwavering Anji does not get discouraged by this, and tries to cash in on Shafaq's weakness. She tells her marriage plan to Shafaq and somehow persuades her to believe that Erum is not the best choice for her brother.
Now Anji's character is a flawed one; however, despite all her blemishes and imperfections, I have come to sympathize with her. Anji is suffering from an inferiority complex due to her underprivileged background and her dream of becoming rich triggered a shallow, selfish personality to come forth. She acts like a child who would throw all sorts of tantrums to get his/her favorite toy, and the one who, if not disciplined at the right time, would become a nuisance for his/ her parents. This is exactly what happened to Anji. If you examine her situation closely and look at her home environment, it is not exactly a nurturing one; in fact, there is always yelling going on, and her mother hardly teaches her children between good and bad, and even when she does, the teaching is flawed too. It is, therefore, not surprising that Anji turned out to be this way.
Initially, Kamran did fall into Anji's trap just like everyone else in his family but circumstances made him see Anji in a completely different light. A stunned Kamran watched Anji being hit and dragged by her mother when she got off her neighbor's bike. Anji had been dating the neighbor's husband to take advantage of him and to eat a meal or two. The most saddening part of this entire catastrophe was that the neighbor was just as much at fault as Anji but he got off scot-free. On the other hand, Anji was beaten up by her mother so much that the bruises were visible on her face. This is the society we live in today. A woman is punished while the man goes unnoticed for the same crime.
Read: Hit Trio of Khaali Hath to return with 'Ghar Titli Ka Par' on Geo
How can I forget to mention Anji's third boyfriend who is the waiter at the nearby restaurant! Here too, we see Anji befriending him to get small favors such as a snack or two, or a bottle of Pepsi or mere 5 bucks. But to Anji's horror, the waiter has fallen in love with her, and he wants to send a proposal. Anji, on the other hand, tried to deviate the situation but she cannot continue this for a long time. Will this waiter bring another twist to her life? We will have to wait and watch.
Azar is another character, being played by Shahzad Sheikh, who has been making appearances here and there in the drama. He is Kamran's friend and is interested in Shafaq. Judging by the promos, we can surely expect the two to get married. He has not yet proposed to Shafaq though. Let's see how that track turns out.
The story is still in its initial stages, and although, the writer Samra Bukhari is taking her own sweet time in introducing all the characters and tracks, it is the execution of the scenes that has made this show worthwhile. The director has done a phenomenal job extracting performances; and he has definitely sprinkled enough spice to transform this affair into a flavorful deal, which could have otherwise easily turn into a bland one.
Written by Samra Bukhari, and directed by Talat Hussain, Ghar Titli Ka Par, is another 7th Sky Entertainment production that has kept the viewers intrigued to return week after week judging from its high TRPs while Asad Qureshi and Abdullah Kadwani have another winner on their hands. The promos suggest a love triangle of some sort between Anji, Shafaq and Azar, and we are anxiously waiting for the story to move forward. How exactly will this love triangle play out if Anji is interested in Shafaq's brother currently? And how will Shafaq react when she finds out the truth about Anji? To find out the answers, watch Ghar Titli Ka Par every Thursday at 8 pm on Geo TV.