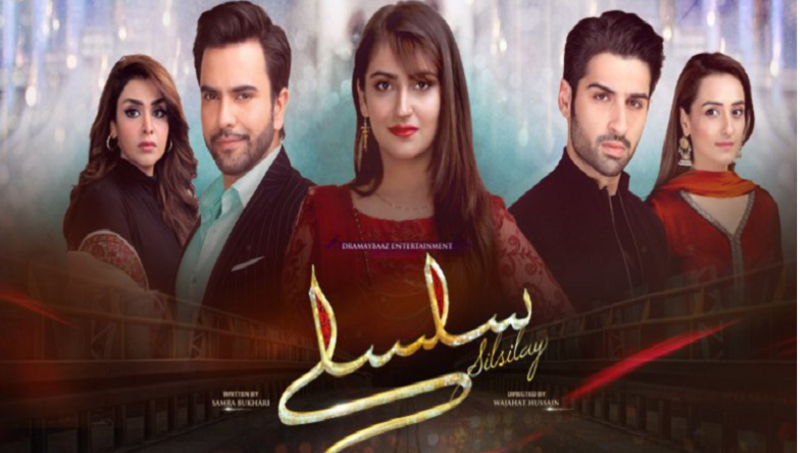 "Silsilay" portrays human emotions in such a realistic manner that it keeps you hooked to the screen
Our Tuesday's favorite, without any doubt, is the drama serial called "Silsilay," which portrays human emotions in such a realistic manner that it keeps you hooked to the screen. With a simple yet engaging plot, Silsilay is a beautiful story about two sisters namely, Abiha and Hira who live with their aunt as their father has abandoned them.
Written by Samra Bukhari, the story features Abiha (played by Momal Sheikh) who is in love with Shahzaib (played by Muneeb Butt) but Shahzaib is about to get engaged, Hira (played by Hiba Bukhari) who is in love with her Khala's (Seemi Raheal)'s son Jawad (played by Junaid Khan). Junaid thinks of Hira as an immature girl and is about to marry Ujala (played by Sara Bhatti) - the character that is shown to be making Hira's life more miserable with each episode.
Read: In Review: Still going strong Junaid Khan and Hiba Bukhari make 'Silsilay' worth one's time!
Ujala just wants Hira out of her life as she feels jealous with the amount of attention being given to her by Jawad; however, Jawad only does it out of a sense of responsibility. In the recent episode, things have turned from bad to worse as Hira has even slapped Ujala, the act also becoming unbearable for Jawad.
The reason why Hira slapped her was because she insulted her mother (played by Shagufta Ejaz) by saying how her mother talked to a boyfriend on the phone but the sad part was that no one in the house even bothered to ask Hira why she did what she did. As Hira has always been so vocal about her hatred towards Ujala, therefore, no one is able to see the tricks she is playing with Hira by using the emotional card. Ujala shows her concern about how Hira wouldn't be able to get a good proposal since she belongs to a broken family and how it was better to get her married with a proposal brought in by her.
On the other hand, we have Shazaib getting engaged, which has just broken Abiha's heart into million pieces. Since she never revealed her feelings to him, he has no clue about it but what we enjoy seeing is how dependent he is on her, yet he doesn't realize that Abiha can be his life partner too and not just a very good friend.
Hira is an outspoken person who is making life difficult for herself as well as her mother by being adamant about not marrying the one Ujala had suggested. She decides to run away and go to her father (played by Mehmood Aslam) as she's unaware of the truth about him. We cannot wait to see what will happen when she discovers the truth about him as well as the situation that will be created when everyone will discover about Hira's absence at home.
Another thing which works in Silsilay's favor is the fact that it is a blend of many things, and therefore, it doesn't bore the audience.
With Junaid Khan doing a great job, we like the on-screen chemistry between him and Hiba and hope it turns into love soon as Ujala is clearly not an ideal person for him . Momal and Muneeb also make an attractive on-screen pair and make the play worth watching. Director Wajahat Hussain has done a commendable job in the selection of the cast; however, our only concern is regarding Ujala's character, which we believe, would have been played more effectively by some other actress.
The play goes on-air every Tuesday night at 8 pm only on Geo TV.