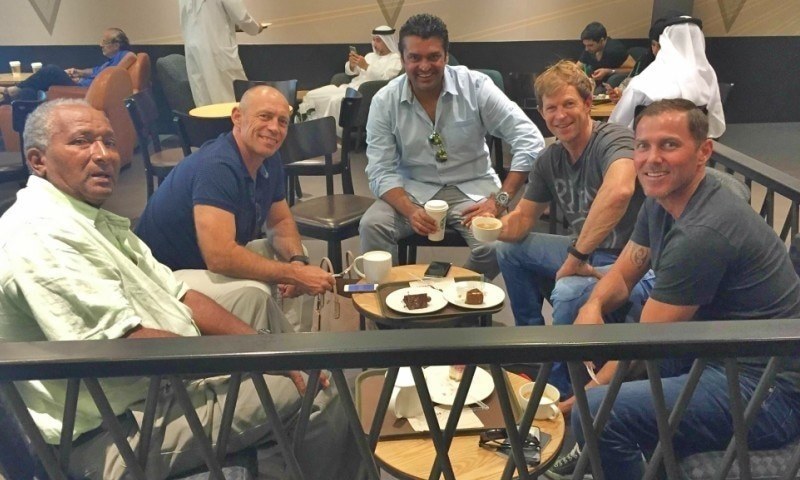 With Fakhr-e-Alam and Danny Morrison on board, the show will be worth watching every Saturday at 7 pm only on Aaj News
The intriguing game of PSL has come to an end; however, the country's fascination with the game of cricket is still at an all-time high. Fulfilling the undying passion for cricket, Pakistan's first-ever cricket reality show titled, "Kriket Superstar" is all set to begin from March 31 on Aaj News.
A one-of-its-kind show for the cricket enthusiasts, Kriket Superstar is expected to showcase the huge amount of talent pool that we have in various cities. All one requires is proper guidance and through this show we are hoping that under the leadership of so many wonderful cricketers, the talented budding players as well as the viewers will get to learn a lot more about the game.
Read : Pakistan's first ever cricket reality show is (almost) here!
As revealed from the trailer, it has Fakhr-e-Alam and Donny Morrision as the show hosts while Jonthy Rhodes and Abdul Qadir as the guides who will impart training to the boys on how to perform so as to be crowned as the Kriket Superstar.
The filming is conceived and created by Fakhr-e-Alam, who is known for taking the cricket broadcast world by storm when he began hosting cricket shows on Ten Sports. In an earlier conversation with HIP, he had revealed about discussing this idea with former New Zealand fast bowler and cricket commentator, Danny Morrison.
"Danny was very supportive of the idea and agreed to be part of it almost immediately. This gave me confidence to go full on after the execution of the show," he said.
Trials for Kriket Superstar were held in three different regions of Pakistan. Local selectors included Pakistan's former fast bowler, Jallaludin - the 1st ever cricketer to get a hat trick in ODI history against Australia, stylish former opening batsman, Mohammad Waseem, and the legendary leg spinner Abdul Qadir. The local selectors held trials of around 1600 youngsters, out of which 24 were selected to be presented to international judges namely Jonty Rhodes, Sir Andy Roberts, Damien Martyn and Danny Morisson.
Howzat for a good watch! Keep following us for more updates on the show.