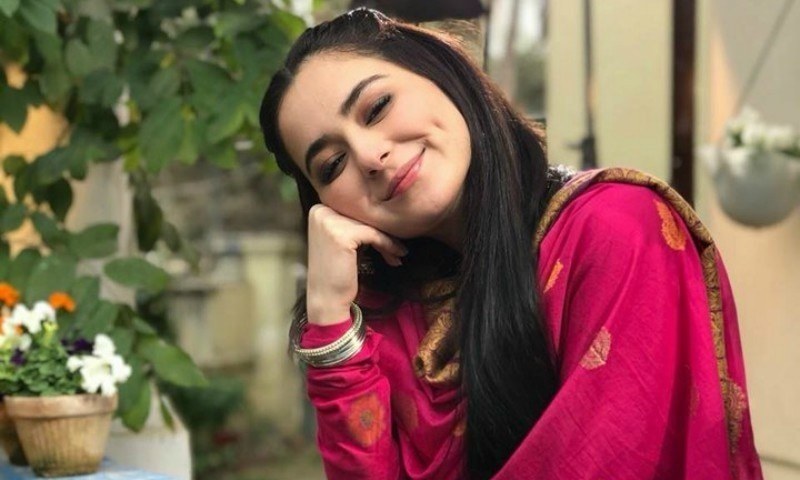 Hania has a natural flair for acting, which makes this bundle of talent a delight to watch in every play
Ever since we saw the teasers of "Visaal," we have been super excited for the play mainly because one can see Zahid Ahmed in an entirely different kind of role while playing the character of a notorious guy called Akram aka Aku opposite Pari being played by the stunning Hania Aamir for whom this is the first mega serial.
Speaking about Hania's character in the story, Pari (played by Hania) looks extra ordinarily pretty in Visaal donning the eastern attire and her character comes across as a girl who is very family-oriented. Having lost her mother at a young age, her father means everything to her and looking after him is something which she genuinely enjoys.
Written by Hashim Nadeem, the story appears to be intense as well as an emotional piece packed with some amazing performances by Zahid, Hania and Saboor Aly who plays the character Naheed (Pari's best friend and the daughter of Maulana Ghufran)
So, what exactly gives a promising start to the story, read along to find it out.
Read: Hania Aamir Gears Up To Take The Drama Industry By Storm With Her First Major Serial, "Visaal"
Pari is a very protected daughter and whenever her caring father (played by Tauqeer Nasir) goes to work, he makes sure that some one is there to look after her because she is the only one left in the family. On the other hand, we are introduced to Aku who has been in jail for a while and has been released but that does not stop him from being an imposter who tricks on people. Upon receiving strict orders from the inspector to leave the city, Aku boards the train and reaches a new place, which is supposed to be Pari's hometown and this is where the story begins.
How will two such diverse people come together is what piques our interest in Visaal.
Aku is new in town and needs a place to stay as well as to work, which leads him to Maulvi Ghufran (played by Firdous Jamal) and decides to win him over by dressing up as a maulvi himself to gain the elder person's trust .
And it was through this that we saw how good Aku has been in fooling around with people that even Maulana Sahab is impressed by him and gives him access to the house. Aku cannot stop thinking about Pari since his first encounter and is mesmerized as she opens the door. We still have to find out if what will happen when Aku discovers that Pari is, in fact, not Maulana Ghufrans daughter but some one else!
Directed by Ali Hassan, the serial has us as a fan because we have seen the diversity in his works from Muqabil to the newly-aired Visaal. He has that unique quality of making every scene extra special with his artistic approach such as the scene revolving around the train station and the alley where Aku was walking with his new best friend.
While we think that Zahid Ahmed is trying too hard to portray a cunning guy and that feeling does not come naturally to him, we are still curious to learn more about his skills as the drama evolves. Hania Aamir has a natural flair for acting and lights up the screen with her presence and even though we just saw her opposite Zahid for a second, that was enough to find out that there's a new on-screen pair in the making, which we would love to see more often!
So, the drama being off to a great start, here's hoping that it will stay worth watching. Catch the next episode of Visaal on Wednesday night at 8 pm only on ARY Digital.