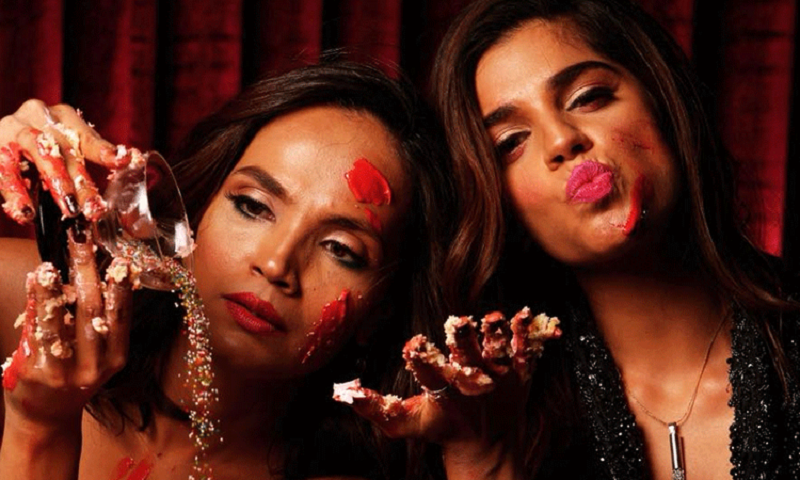 The feisty sister duo from the film Cake were recently in London, where they talked to BBC Asian Network
"Cake The Film" has already been breaking stereotypes since we found out that it was happening. The film revolves around a dysfunctional family but what's more exciting about Cake The Film is the fact that it is intent on breaking stereotypes.
Read: Cake becomes The First Pakistani Movie To Have A World Premiere In London's West End
Cake shows Zareen, smoking. It shows the same woman going out on the fields and commanding men on how to work. Zareen is a strong, single and empowered female. Cake also shows Zara, a woman living in a foreign country on her own. She commands her own life and live it on her own terms.
Read: Cake, A Story Of Love And Loss
Aaminah Sheikh and Sanam Saeed are both strong females, portraying stronger character in their upcoming film, Cake. The sister duo is feisty, like to bitch about and speak like they mean every single word. But are they feminists?
In a way they are. Recently, Sanam Saeed and Aamina Sheikh were both in London where they talked to BBC Asian Network about the cliched term. Feminism, they said, is often misunderstood.
The film challenges gender roles with its portrayal of strong women, commanding their own lives. Sanam says that she believes in equal rights between men and women, especially when it comes to work related areas. Cake breaks stereotypes by negating the commonly held perception of women being oppressed in the country. The film showcases lives of two independent females choosing to call the shots, like they want, but definitely within the boundaries set.
Sanam and Aamina support the stance of feminists; however, they do not believe in the whole male hating brigade. The conversation gets too deep but the two clearly state that male empowerment is as important as female empowerment. Men need to be aware of their responsibilities and their stances just as much as women.