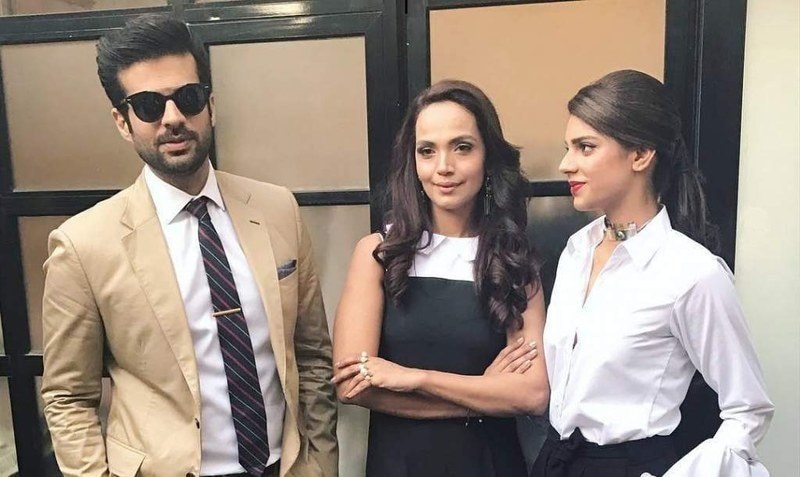 Asim Abbasi , Mohsin Yaseen and Nadeem Mandviwalla share their views on the numbers bought in by both films.
We've always questioned the allotment of screens to Indian films as compared to our own in cinemas across Pakistan. However, we now know for certain that it isn't the allotment of screens that affects a film's business but rather the choice of the audience.
Friday saw the release of Adnan Malik, Sanam Saeed and Aaminah Sheikh starrer Cake the film alongside Tiger Shroff's Baaghi 2. And despite Cake having ample of screens and also all positive reviews praising strong performances in the film, it could only rake in Rs 1.1 crore which is less compared to Baaghi 2 which has made a total of Rs 5.7 crore so far within the same time frame.
Pretty vast difference we know but according to Box Office detail, Cake only grew on Saturday by 10-15% but it was on Sunday where it picked up by 30% despite a cricket match as this is a day where one usually sees a drop but with the movie doing well lets see how much it manages to make this week .
Read : In Focus: Are Indian movies important for our film industry's survival
To understand more below is the break down of Cake The Film ,
Friday ... 30 lacs Saturday ...35 lacs Sunday...45 lacs
which brings it to a total of 1.1 Crore.
Now on the other hand we have Baaghi 2 which just from Friday ,Saturday and Sunday has earned a whopping Rs 5.7 Crore approximately and is still going strong .
With us wanting to know that even though Cake had good screen space how come the earning of Baaghi 2 turned out better. This is what producer /film distributor Nadeem Mandviwalla had to share,
"I don't think it's about Indian and Pakistani films, it's more to do with which movie creates more value of excitement & entertainment for the public. For example when Secret Superstar was released with Golmaal Returns for the larger public, Golmaal Returns had more entertainment value. And even though, in my opinion Secret Superstar was a far superior film than the later, it ended up doing 1/4 of the business of Golmaal Returns."
Read : Box Office Report : Golmaal Again vs Secret Superstar
Adding further, "If great pictures which are critically acclaimed were the norm to do big business and enjoy the support of the audience then The Shape of Water (Academy Best Picture of the year) would have done bigger business than Black Panther. But instead The Shape of Water earned about $63 Million in USA and Black Panther has about $ 640 Million and counting."
Wanting to also know GM Marketing at Cinepax Cinemas Mohsin Yaseen's point of view we took his two cents on the matter as well.
"The success of Baaghi 2 is in its genre. The film has all the ingredients to appeal to the masses. Baaghi 1 was also a successful film in Pakistan and with all the pre-hype about the movie, it took big opening."
Talking about Cake in particular he said,
"Cake is a fantastic film, its doing good business in Karachi and Hyderabad whereas Punjab is heavy on Baaghi 2."
But is director Asim Abbasi content with the numbers bought in by Cake was what we asked him over a small chat and this is what he said ,
'Baaghi 2 has significantly more screens nationwide but justifiably so as it has more demand from masses, especially in single screen cinemas. Cake is predominantly an urban centres multiplex film. It is also a modestly budgeted word of mouth film so it is hopefully one that will have longevity especially in our key centres. Our performance and our pick up from Friday to Sunday is aligned with our expectations'.
But does Asim take Baaghi 2 as a competition or he feels that the audience for both films are different from one another was our next question to the director where he said ,
'I do think the audience for both films are vastly different so I don't think having Baaghi 2 next to us is really a hindrance and it's a huge positive for the exhibitors and that's important'.
So will Cake the film pick up pace during the week? Well lets wait around to find out, because this one is certainly an amazing film.