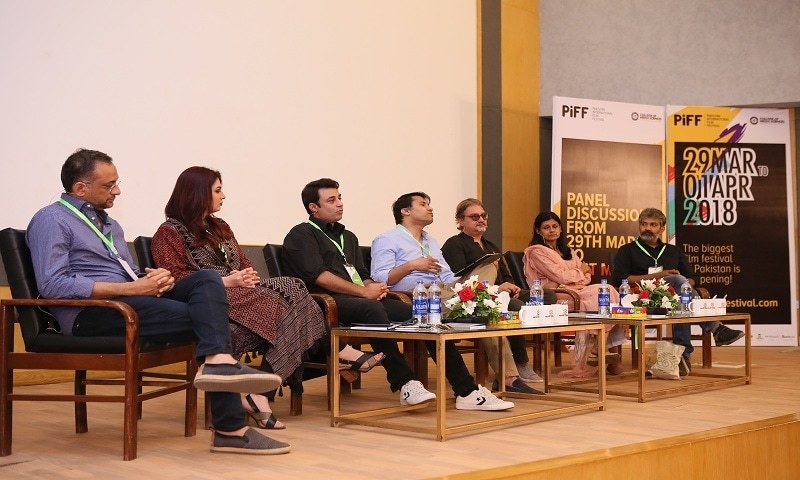 Moderated by Hashim Raza, the session saw participation from filmmakers from the Bollywood and Pakistani film industry
Revolving around the existence, importance and the necessity of various key genres in the South Asian film industry, the panel discussion on the topic titled, "Genre Busters" was held on the second day of Pakistan International Film Festival (PIFF) at Ziauddin University.
Being moderated by Hashim Raza, the session saw participation from some of the prominent film-makers from the Bollywood and Lollywood industry including the director of Baahubali S.S. Rajamouli, Adnan Sarwar, acclaimed actor Vinay Pathak, director and actor Nandita Das, Sana Tauseef, and Shobu Yarlagadda.
Read: S.S Rajamouli was excited for Bahubali's screening in Karachi, Pakistan
The panel discussion kicked off with the views being shared by the producer of Bahubali 2, Shobu Yarlagadda, who told the audience about the classification of genres in Indian film industry that only comprises of Action, Comedy and Drama.
"Though it is difficult to define 'genre,' we differentiate between commercial cinema and niche cinema," he told. According to him, Baahubali could not be placed under a specific genre. "It's a mainstream film," he said.
S.S. Rajamouli, director of Bahubali 2, also joined in the discussion and said that the genre doesn't matter while what really matters is the story that you want to come out.
Pakistani film-maker Adnan Sarwar of the Shah fame was more or less of the same opinion as he said that he doesn't get involved in genre while making a film.
"For me, it all comes down to whether a film is good or bad depending upon how passionate you are about the story that you are telling. The patterns of content consumption are changing and I try to make more of Indie films," he shared.
He further emphasized to look into a story rather than looking into a genre and said, "We need to focus on these aspects while making films. Are we telling films honestly? Are we telling stories that move people? We make stories that are honest, passionate, and that can be told under three crore rupees."
While Adnan Sarwar was of the view that films should avoid controversial subjects in the present times, actress and film-maker Nandita Das disagreed to it, saying that a filmmaker should tell what s/he wants to tell.
Speaking on the subject of genre busters, Das said, "Sometimes 'labelling' restricts the kind of message, which is meant to be conveyed. Genres are fluid. All kinds of different films must exist because there is an audience for all kinds of different genres."
She laid emphasis on how every kind of work should be done. "The space for diverse cinema is shrinking," she further revealed.
Award winning documentary filmmaker and film producer Sana Tauseef spoke about how Indian industry was comparatively different from Pakistan in terms of animation, which is relatively a new field here. Veteran Indian actor Vinay Pathak of Bheja Fry fame shared that he considers the story and the script while signing a film.
"You tell a story because you want to tell it, not because it will fetch you money. You don't have a science of what will work for you in terms of making money so it's better to stick to passion," he opined.
By the end of the session, it could clearly be figured out that genre had not been essentially important for the filmmakers in South Asia; however, the prime focus has always remained on the art of storytelling; however, there is a need for films with social conscience. As Das puts it, "Cinema cannot create a revolution but it does get to your subconscious and it impacts us."