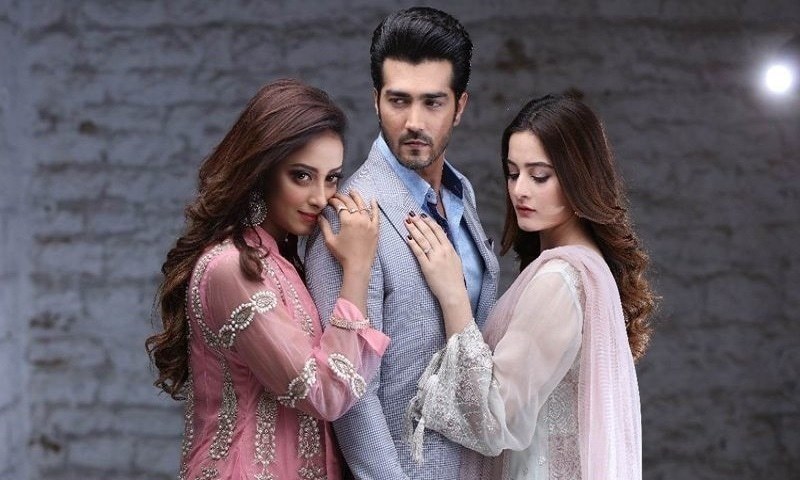 Anji is married to Aftab, Shafaq is getting married to Azar, how exactly will this love triangle play out now?
The story for Ghar Titli Ka Par moved fast the last couple of episodes and we see Kamran getting married to Erum while Shafaq is still unhappy about the marriage. Anji gets married to a man named Aftab who turns out to be not as rich as she had thought him to be. Aftab is a simple, self-made man who does not have any family. But he is still able to provide for Anji what her family was not able to. He is very nice to Shafaq but she continues her attention seeking behavior. On the other hand, Azar brings himself to confess his love for Shafaq and sends a proposal to her family. A lot happened in the last few episodes which made the story much more entertaining.
Anji's character makes me wonder if people are born "bad" or if there other elements that help create the monsters of our society. She admits that she never wanted to marry Kamran in the first place, which did not make sense to me because at one point she had seduced Kamran, told her mother that Shafaq's parents will bring her "rishta" and done everything possible to turn Shafaq against Erum. It is intriguing though that even though Anji is engaged to be married to another man, she still tried to wreck Shafaq's life by insisting that she run away from home. Anji right afterwards gives the reasoning for her devious acts, by saying how she wished she had a family who would love her too, like Shafaq.
She has deep insecurities and her mother's abuse, and possibly genetics, combined with conditioning made her a heartless, callous person. Anji's mindset was revealed a little bit in these last couple of episodes. Anji herself admitted how she had turned out to be selfish and heartless. She had seen domestic violence in her own home, with her father beating her mother while her phuppo watched with a gleam in her eyes. As a child, Anji, would then make up false stories about her phuppo so that her phuppa would do the same too. She then concludes that phuppo's punishment brought an ease and happiness to her heart, and since then she became "used to" that. Anji thus became scornful person, and full of hatred for those more privileged than her. Additionally, her father was abusive and her paternal aunt was similarly wicked, which makes me believe that some of her personality traits are probably inherited.
Anji's narrative of "turning into a selfish and mean spirited person" did not make sense, simply because her other sisters had absolutely no issues. I also wish the writer had explored more into the mindset of children being raised in such an environment rather than just making Anji a "bad" person. Although, Anji's character is the strongest, in my opinion it could have developed more by showing their circumstances. Perhaps a few childhood throwbacks?
Despite Anji's blemishes and imperfections, I have always sympathized with her. Anji suffers from an inferiority complex due to her underprivileged background and her dream of becoming rich triggered a shallow, selfish personality to come forth. That, coupled with poor parenting and abusive role model no wonder Anji turned out to be this way. But I suspect the writer plans on creating circumstances to make Anji repent in the end.
It is interesting to see how Anji is jealous of everyone who is given even a speck of an importance more than her, which was seen how instantaneously she became envious of bhabi when Aftab praised her. She wants full attention, no doubt about that. She is envious of whoever is praised more than her, which is a rather peculiar personality, and I want the writer to delve into that more and explain to the audience what circumstances have led her to become envious to this extreme.
Ghar Titli Ka Par Episode 5 Review: Great performances make Ghar Titli Ka Par a weekly delight
A few months go by and Anji gives birth to a baby boy. The fact that both Anji and her mother kept reiterating that Aftab is extremely lucky and Anji has done him almost a "favor" by making him a father to a "baby boy" was distasteful and unnecessary. Or was it to show the audience the mindset of Anji's family? Because I highly doubt that Aftab would have cared if the baby was a boy or a girl. It is both fascinating and depressing to see that it was the women (not men) who were shown to give importance to the birth of a boy. Does that mean that the women of our society are also contributing to this patriarchal culture?
Written by Samra Bukhari, and directed by Talat Hussain, Ghar Titli Ka Par is another 7th Sky Entertainment production that has kept the viewers intrigued to return week after week. The promos showed Azar and Shafaq finally getting married. Shafaq will move to Lahore near Anji. Anji will most likely show interest in Azar. How exactly will this love triangle play out now that Anji is married to Aftab? To find out, watch Ghar Titli Ka Par every Thursday at 8 pm on Geo TV.