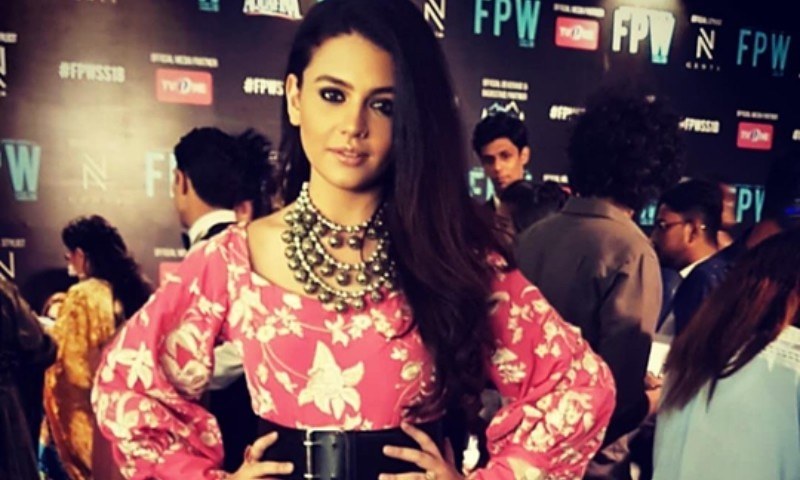 'Women don't build women, they bash at each other like this' - wrote Zara Noor Abbas

One of the main problems with our society especially with women is that we are very quick to pull each other down. Never once do we sit and think about the way we act. We go on blabbering about female empowerment and all but women don't support women when it comes to it.
Recently we saw the beautiful actress Zara Noor Abas become a show stopper for the brand FnK Asia at this year's FPW. Zara is known for her composed and collected persona but her ramp walk was absolutely different. She walked with brimming confidence, putting models to shame.
We later on discovered that Zara portrayed a warrior princess depicting a world of strength and survival and thus the unusual walk. But sadly a few models decided to make a video mocking her and it became viral. However, Zara has now given a very befitting reply to all those trolling her.
But before we go further lets take a look at Zara's now famous walk at the show.
Now what followed next were couple of models who thought they were way above Zara and decided to have a little fun on her part by openly mocking the star without realizing the fact that she is an actress and modelling is not her cup of tea, So instead of encouraging or guiding her to do better they decided to pull her down in a video which became viral.
But since Zara is a confidant person she decided to address the issue in front of everyone by shutting these models in the best way possible. Here's what Zara said,
"Hey Dear Stunning Models!! You girls look amazing in this video and thank you for making me learn a few things about the world. Now I can't complain why women in the world have to fight so much for gender equality. That is because women don't build women. They bash at each other like this."
Read : Zara Noor Abbas To Make Her Debut Alongside Mahira And Sheheryar In Asim Raza's Upcoming Film
Zara further wrote, "It's so sad. So so sad for all the people who are trying to empower women. They don't know that it is the women who don't let each other grow."
Now as we said above Zara is not a model but a fine actress and at the end of the day she was doing exactly what she was asked to do by the designers as Zara herself also wrote ,
"I am an actor, not a model. I cant even imagine to be a model. It is so effortlessly amazing and tiring at the same time but as an entertainer, it is my job to entertain my audiences and that's what I did with my walk which was based on the theme of a warrior princess thus the belt and the boots were incorporated in my outfit. That is why designers choose actors as showstoppers for their walks. To add more drama. Some liked it, some didn't. My designer was happy and so was I."
And honestly guys at the end of the day that is exactly what counts as you are your own best friend and if you are content with you have done, the rest of the world doesn't matter especially theses trolls who themselves are mere attention seekers.
So more power to you Zara and here is hoping to see you back on the ramp real soon!