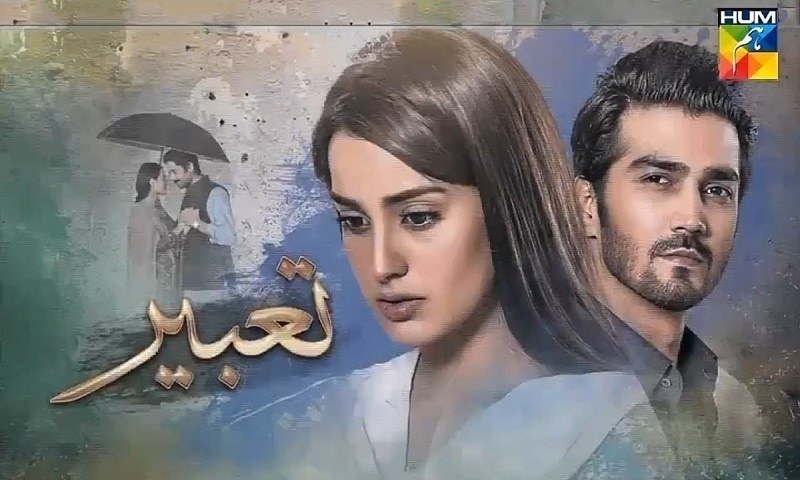 Emotional? Yes. Heart rending? Yes. Tugs your heart at the right places? Yes, yes, yes! If you are looking for a sweet, simple, romantic love story with poignant moments, look no further. With eight episodes down, Tabeer is a drama that keeps you coming back for more. The story may not be something out of the box, but the presentation is "feel good" which makes it an entertaining watch. It is about two married individuals whose paths cross after their partner's death and how they eventually fall in love. Fawad (Shehzad Sheikh) is married to Eshal Fayyaz who passes away due to metastatic cancer after giving birth to a baby boy while Tabeer's (Iqra Aziz) husband Yasir (Imran Ashraf) dies in a car accident. A pregnant Tabeer also gives birth to a baby boy around the same time as Fawad's wife.
A few complications arise with Fawad's son since he is born to a mother who was on chemotherapy, and therefore per doctors is in dire need of breastmilk or otherwise he will not survive. Here a few liberties were taken for the story to progress; because in today's day and age there is not a single illness that I can think of that would cause the infant to die without breastmilk. Breastmilk is extremely important for a baby for up to a year and breastfeeding is highly recommended over formula, but that is because breast milk is nutritious and contains antibodies that give protection to the baby from various illnesses the first 6 months of their lives until they can start making their own antibodies. Also, if the situation is so grave that the baby will eminently die, like the doctor suggests, then how come the baby was not hospitalized? No doubt these are some glitches in the story. Perhaps if it was presented showing that Fawad's baby has a deficient immune system and it would be BETTER if he is breastfed, it would have been medically correct. Because at the end of the day, we not only want to present stories that are captivating, but also accurate giving attention to even the minute detail as this.
Tabeer and her family undergo financial hardships and end up at Fawad's doorsteps asking for money, which he agrees to give without hesitation. Seeing Tabeer with a baby, Fawad's mother comes up with the idea of asking Tabeer to fulfill the role of feeding the baby. Tabeer initially hesitates (which I don't understand why- and the reasoning given was not good enough either) because a woman CAN feed two babies at the same time without any issues, in fact it was the custom in the old days in many areas including Arabia. Perhaps Tabeer was not educated in this regard that breastmilk is supply and demand and that a woman's body starts producing more milk in response within 36-48 hours? But I was surprised that the doctor actually asked Tabeer to nurse only one baby because "Tabeer is too weak" when she passed out. If the mother is physically drained due to nursing, it is recommended that she be taking prenatal vitamins, increase her fluid and food intake. If she stops nursing one baby, her milk supply will automatically decrease to sustain only one baby, which is not what the doctor should be aiming for.
Anyways, coming back to the story, besides a couple of loopholes, I am enjoying this drama to the core. Some liberties have been taken, but hey, the drama is strong in the emotional and romance quotient no doubt. Tabeer and Fawad have some very cute, romantic scenes that will surely melt your heart and the background score enhances the mood of the sweet moments between the two. Iqra Aziz is super cute and acts amazingly well, she fits the role of Tabeer to the T and has awesome chemistry with both Shehzad Sheikh and Imran Ashraf. We did see a couple of throwback scenes of Tabeer and Yasir, which made it hard for me to decide who I prefer Tabeer with, Yasir or Fawad?
Fawad's friend Saniya (played by the gorgeous Hajra Yamin) pays him a visit after the insistence of a friend and quickly finds out that Tabeer has "taken over" in her opinion. She could not fathom the circumstances that led Fawad to ignore her and instead tend to a sick Tabeer who had passed out right in front of everyone. A distraught Saniya, leaves right away and goes back to the misery of her home, behind closed doors. Saniya is still desperately in love with Fawad, to the point of being self destructive and needs medical help ASAP. Let's see what role she will play further in the story. Hajra Yamin does complete justice to her role.
Tabeer Episode 2-3 Review: The Unexpected Twists And Turns
In this collage of amazing performances, the weakest link is Shahzad Sheikh. He needs to work on his expressions, that is all, otherwise he does look good with Iqra Aziz. Ali Safina as Ajju has rather unique and interesting role, one that will probably grow in the upcoming episodes. Ahson Talish's direction is brilliant, giving a simple yet elegant feel to the scenes. Imran Ashraf's dialogues are profound and intensify the sentiments of the play. The romantic in me is looking forward to some cute, lovey-dovey scenes between Tabeer and Fawad. So if romance is your cup of tea, tune in to Hum TV and watch Tabeer!