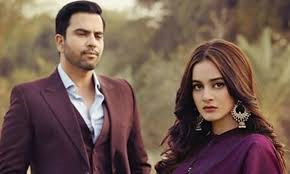 After a long time we have a Sunday where we cant wait to wrap everything up and sit down in front of our TV screens to watch the latest episode of Ishq Tamasha as Junaid Khan and Aiman Khan, not to forget Kinza Hashmi and Faizan Khawaja have quickly become our favorites each week we tune in anticipation catch the latest episode.
Written by Misbah Nosheen, Ishq Tamasha is a beautiful story and that it keeps you thoroughly engulfed in its complications. As a viewer you actually enjoy all the misunderstandings which are happening in the play as it keeps you right at the edge of your seat. Also doing full justice to her script is director Danish Nawaz, whom we became a fan right after Sun Yara and even here his scenes are not dragged and his actors are performing so well that now each person in this play has become like a member of our own family whose heartaches we even feel.
So what happened in the latest episode ? Well read along to find out as it ended on a very interesting note .
Read : Ishq Tamasha Episode 7 Review: Of Love, Beauty And Hate!
Now as you know Mehrab adores his brother Arham (Faizan Khawaja) and Arham's rejection by Rushna (Kinza Hashmi) has a deep impact on him hence making him take a drastic step. Mehran kidnaps Mirha whom he has always thought of as Arham's love interest. And even when Mirha tries to explain to him that she is not whom he thinks she is, Mehrab is not at all interested in listening to her and takes her to a isolated place to lock her up .
But while Mehrab is trying his best to look fierce, Mirhas crying does melt him but only for a second as remember that he too was blown away by her beauty the first time he saw her in his office. But because he never saw Rushna next to her, he always assumed that Mirha is the one Arham is crazy about.
With Rushna dead worried where Mirha has disappeared to in the middle of the night, Mehrab on the other hand prepares Arham to come to the venue and marry his love whom they will drop back after the Nikah and bring her once she is ready to accept him fully. But since we all know that Mehrab has the wrong girl in hand all we can do is hope that Arham can now save poor Mirha by telling his brother that this was not the girl he loved.
Quite an exciting 8th episode, we are in love with Junaid Khan and Aiman Khan especially in the scene where he takes her from her home. The on screen chemistry between the two is so intense that even now the scenes are stuck in our head. Faizan Khawaja as well as Kinza Hashmi are doing a great job and the combination of these four actors makes each episode worth watching for sure.
So if you are in the mood to see a good story with superb direction and acting then Ishq Tamasha is definitely for you to watch every Sunday night at 8 pm only on Hum TV.