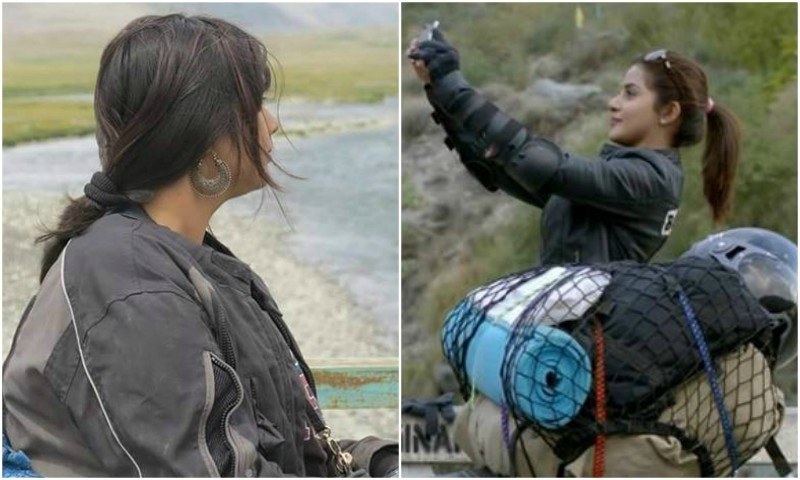 The film takes inspiration from what Zenith has shared on her social media and given access to from her story
Sohai Ali Abro's Motorcycle Girl is based on the story of Zenith Irfan, the young girl who took it upon herself to make her late father's dream come true and rode her motorcycle straight to Khunjerab. The journey of this simple girl setting out to fulfill her father's dream of bike riding through the country inspired director/actor Adnan Sarwar and behold, the amazing, Motorcycle Girl!
The film is now all set to release on April 20th and the best part about it is the fact that it has been kept very close to Zenith's reality. The Motorcycle Girl directed by Adnan Sarwar pays attention to even the minutest details that Zenith shared on her social media and the story she revealed to the director extraordinaire.
In Conversation With Zenith Irfan: 1 Girl 2 Wheels
As Zenith posts on her blog, excruciating attention has been paid to detail by director Adnan Sarwar. Sharing on her blog, Zenith writes, "They took all inspiration from my first tour which was in 2015," commenting on how the team had nailed just about everything from the earrings she wore to the motorcycle she rode.
In an earlier conversation with HIP, Zenith had expressed how the idea of a film made on her was thrilling enough. "I am more than excited to have my story being told through a commercial film. I believe it will communicate the message of strength. It will tell a wider audience that we have more to offer, we're not just known for terrorists, which most of the world perceives. We aren't suppressed and I hope this is what the film will address, along with visuals of Pakistan's natural beauty."
And addressed it has. Motorcycle Girl has raised the bar of expectations when it comes to a commercial film. With a brilliant trailer and an amazing musical score, the film releases on April 20th, taking inspiration from Zenith's courage and molding Sohai's personality into this bold character, who's willing to take life head-on just for the sake of her father's dream and her passion.