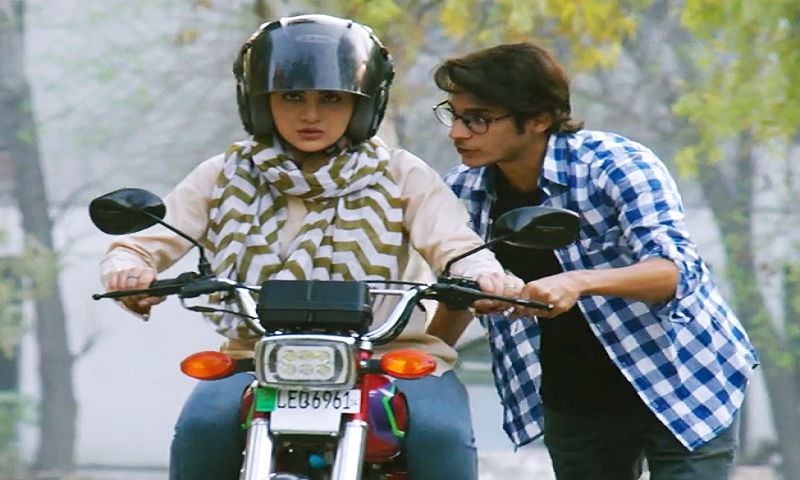 Adnan Sarwar delivers big time with a highly entertaining yet content driven film

In dying moments of the film, the director turns to spoon feeding the audience. For a brief period, I felt that I could take my eyes off screen, but in an instant he returned to that nuanced method of storytelling and I had a smile on my face. Adnan Sarwar has been able to create a balance between creating an emotional, entertaining film based on content. It has best of both worlds. If you have read about Zenith Irfan, you basically know the base plot, but there is so much more. This isn't a travel film. The film maker laughs at and ridicules the norms of this patriarchal world, highlights internalized misogyny, and bares crony capitalism.
Sohai Ali Abro has strengthened the film with her quiet defiance. The film doesn't over glamorize her character and the struggle is not romanticized either. Dialogues like 'nahe krne mujhy himat' show us that she is human after all. A lot of biopics fell in this trap of creating a legend out of a man/women or lionizing the individual. A lot of women in films are shown to have taken up 'manly' characteristics to showcase how strong they are. But Zenith retains her so called 'feminine side'; she still has a doll key chain, and wears heals. Her character arch is perfect. Her relationship with her father is portrayed with delicacy, it is the base of the whole film. There is naivety, anger, confusion, frustration and eventual realization of her achievement.
Sohai Ali Abro's Motorcycle Girl has been kept very close to Zenith Irfan's reality!
The table tennis racket donning Babar (Sarmad Khousat) as the self-important boss is imposing. It's a reflection on how bosses think of themselves as the Gods of their own universe. Sultan (Hadi bin Arshad) has played the role of a pillar for her sister, while her fiancée Zafar (Ali Kazmi) is used as a prop to show how entitled men can be (and generally are). At one point, he brags about how he has a friend in the US embassy, who'll get her visa processed in a week. Ayesha (Mehar Bano) is terrific in demonstrating the 'moral' support friend role.
There is so much that the film maker has got right. Zenith's character has much needed naivety. She is perplexed when she keeps hearing that she is a bahadur larki. She says 'mai to sirf motorcycle chala rahe hon'. The film maker, smashes one right of the park here. There are subtle sequences (hint: Look for the always-on-the-phone-girl in the van). The reaction on social media, how elders see shadi, and losing all hope is depicted brilliantly.
On the day, Ali Zafar has been accused of sexual harassment by Meesha Shafi (Zafar, has issued a complete denial), Motorcycle Girl which fights for equal rights for women, mentions Ali Zafar. Ironic how things work. Nevertheless, in an entertaining piece of work, Adnan Sarwar delivers a big time. It could have been funny, had it not been the reality of our society. But most of all, Motorcycle Girl is about one thing; letting women do whatever they want to do. Meri zindagi meri merzi!