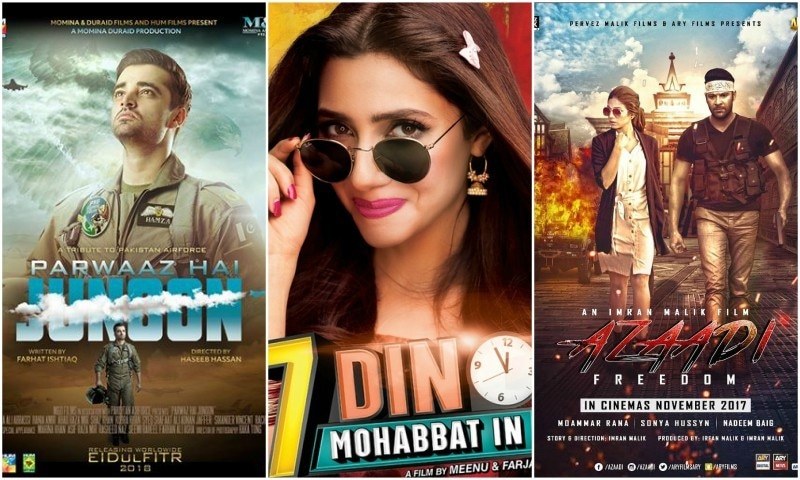 With Parwaaz Hai Junoon, Azaadi, 7 Din Mohabbat In and Wajood lined up for Eid release, how will the box office react?
Eid is one of the most sought after release date for films when it comes to the cinema industry in Pakistan. More and more filmmakers and producers focus on an Eid release because the occasion guarantees box office success, as they believe. But what eventually happens sees films eating out one another's business over the holiday and thus resulting in poorer numbers not only for the film itself but for the entire industry as a whole.
Eid ul Fitr 2018 will see the release of four major Pakistani films including Hamza Ali Abbasi starrer Parwaaz Hai Junoon, Mahira Khan and Sheheryar Munawar starrer 7 Din Mohabbat In, Sonya Hussyn and Moammar Rana's Azaadi and also Danish Taimoor's Wajood on which confirmation is still pending.
Parwaaz Hai Junoon Is Ready For Its Flight This Eid-ul-Fitr
As per the trends we have seen, the bigger releases with major names/production values conveniently overcome the smaller films. If we talk in terms of production values and star cast of films lined up for release this year, Parwaaz Hai Junoon has more power as compared to all other releases on Eid. According to the pull of the film, the audience will definitely flock to PHJ, as it has Ahad Raza Mir and Hamza Ali Abbasi, both of which have a huge fan following.
The real competition will be seen in multiplexes, where we are certain Parwaaz Hai Junoon will be given top preference, with 7 Din Mohabbat In coming in on the second spot and even Azaadi and Wajood will do well if both films clicks with the audiences that is, as at the end of the day they are the ones who make the movie a success or a flop.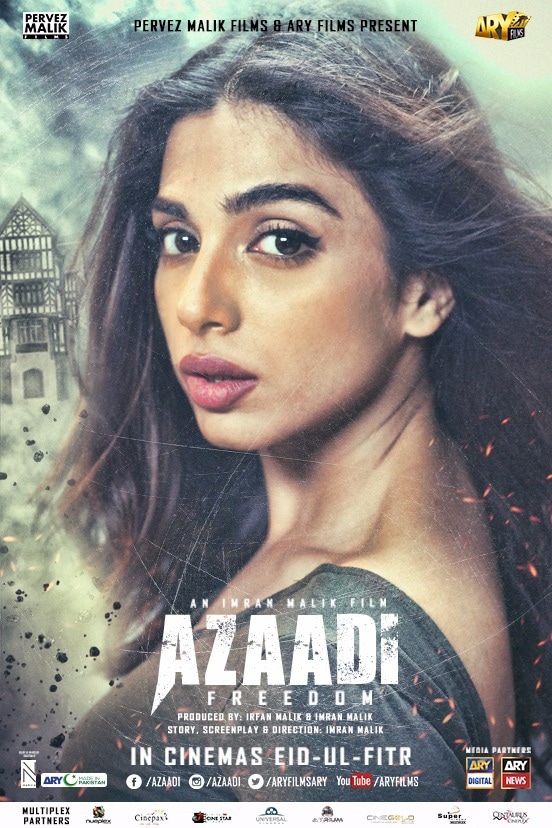 Trailer For Moammar Rana, Sonya Hussyn Starrer 'Azaadi' Is Not What We Were Waiting For!
However, what our filmmakers need to understand that the crowd on Eid, can only benefit their film for a little while. If one is house full, audience definitely flocks to the other option available but this does not prove good for a worth while film in the long run.
The Pakistani film industry needs a trend breaker, a film, that does good when released on a normal weekend. Teefa In Trouble, despite the controversies that are now revolving around its lead actor, Ali Zafar, has that much needed pull. This particular film is expected to do well, despite being a non-occasion release i.e. 20th July.
However, these are assumptions we make. We also asked filmmakers, producers, distributors and exhibitors to give us their two cents on the matter and here is what they had to share with us,
As per Nadeem Mandviwala, "The business in the cinemas is very high due to Eid Holidays and thus most filmmakers would like to release their films on Eid. However, I do believe that everyone should have the right to choose their release dates and if they are comfortable in releasing their film with so many films then no one should be telling them what is best for their films. As we grow their will be problems of such kind but surely in time they will find their own way of settling and future might see a better sensibility."
Along with local releases, we have 2 Indian (Race 3 and Veere Di Wedding) and 3 Hollywood films (Incredibles 2, Hereditary, Escape Plan 2: Hades) slated to release on Eid as well. As per request from the producers, the Salman Khan starrer Race 3 will be pushed back 7-10 days after Eid, to allow Pakistani films an edge over the counter part. Veere Di Wedding is slated for release on June 1st.
Talking about matters, Mohsin Yasin, GM Marketing Cinepax shares, "Overall 8 titles altogether during Eid and post Eid will be available to audiences and cinemas. As exhibitors we are really happy about all the films we will be showing on Eid, we support Pakistani movies and would want more and more films to come every year, but not at the same time. I don't understand logic of bringing all Pakistani films on Eid and leave rest of the year dry, which will eventually create a negative trend for audiences and exhibition partners. Our producers and distributors needs to come out of this single screen release mentality and think on a boarder prospective of multiplex audience, who go to cinemas all year round that's what made growth in industry possible."
Adding more about the crowd of films this Eid, Mohsin states, "This is more of a Cluster Eid rather than a Blockbuster Eid. So many movies which have the potential to earn more, will get sidelined because of too much content available. Our screen count is only 123 at moment, and to make a movie successful we need all these screens to support all the titles, if our producers will make money they will bring new movies, which is rather difficult considering how all films release together in a cluster."
Wanting to also know the opinion of Irfan Malik ( Senior Vice President of ARY Films ) we had earlier gotten in touch with him. "Well we announced Azaadi over Eid ul Fitr because there was only one announced film (7din) till then. Distributors entering with next two films should have thought about cluttering and limited screen space. As they say "2 is company 3 is a crowd". I still believe there is space for 2 to 3 films on Eid though. It will be interesting to see how people react to these Eid Releases since almost all these films have very different genres. ARYFILMS is the most prominent distributor of Pakistani films and we will keep working hard to retain that prominence. My best wishes for all Eid releases'.
We also reached out to director Haseeb Hassan for his thoughts on the regard. Haseeb Hassan turns to cinema with his directorial venture Parwaaz Hai Junoon this year. Haseeb believes, "The cluster of films will not be a problem for Parwaaz Hai Junoon as it boasts of a star studded cast and of course thrilling F16s. Also because PHJ is a high on entertainment film, the best release slot was Eid only."