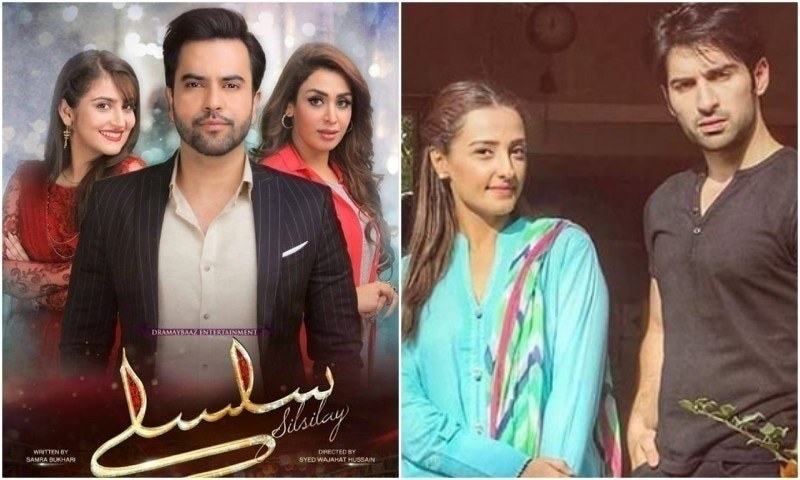 Silsilay has been a favorite owing to its engaging yet very simple storyline. The drama with its star studded cast and a story one cannot get enough off, keeps us hooked.
Silsilay revolves around the story of two sisters Abiha and Hira who love each other a lot but due to the entrance of an annoying wife to be of their cousin Jawad, their lives have become a living hell.
In a short span of time we have become a fan of the writer Samra Bukhari's work. Her stories are well planned and from the heart which makes all her fictional characters so real and that really makes watching the drama an absolute treat.
So what happened in episode 14 of Silsilay? Well read along to find out.
Read : Silsilay In Review: A Thicket Of Complicated Relationships
We all know Ujala (Sara Bhatti) is after Hira (Hiba Bukhari) because she doesn't like Jawad (Junaid Khan) spending too much time with her. Now where Hira is in love with Jawad, he on the other hand thinks of her as a younger sister. And so Ujala wants her out of the way and therefore has made Hira's life miserable. Hira, in her desperation has turned to her father (Mehmood Aslam), who by the way isn't as noble as Hira thinks of him to be.
With Hira's mother ( Shagufta Ejaz) worried sick, she finally tells her sister (Seemi Raheal) how her ex husband has been black mailing her for ages and Hira being innocent must have heard a bit of the conversation where she thought her father was innocent. Ujala's hatred for Hira leads her to spew venom about her character but nobody except her mother and Abiha defends her. However, Hira has landed at her father's house, but things aren't as great as she thought they would be because he doesn't work and his new wife does everything, which makes her annoyed at Hira as she is just another mouth to feed.
Meanwhile, seeing the situation at home Abiha goes to Shahzeb (Muneeb Butt) and asks him to find her a job so she can look after her mother and Hira once she is back. Shahzeb has always had this soft corner for Abiha, however, he doesn't really think of her as more than a friend and is already engaged to someone else.
Now, with Ujala adamant to make everyone believe that Hira is not with her father, we look forward to the next week's episode where finally Jawads mother will have a little talk with him about Ujala's motives and that is something we don't want to miss out on!
Coming to the performances, then to be honest, there is nobody who disappoints in Silsilay as everyone has gotten in to the skin of their character so well that their joy and sorrow has become a part of us too. Even Sara Bhatti has matured with the episodes progressing and has been able to convince her of her performance. So doing a great job, Junaid Khan, Hiba Bukhari, Muneeb Butt and Momal Sheikh make Silsilay worth following every Tuesday night at 8 pm only on Geo TV.