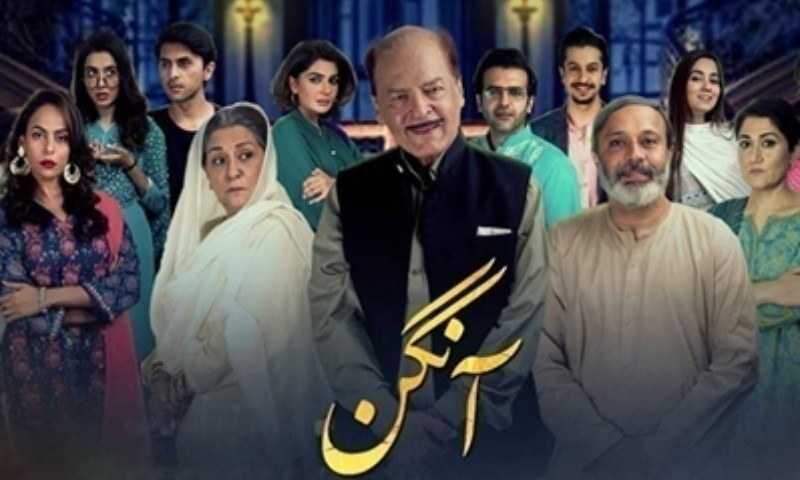 With the drama having taken a interesting turn, we love how Faiza Ifthikhar combines emotions with wit so easily
Even though we have been an avid watcher of Aangan ever since it began, we rather lost interest in the play when it focused a bit too much on Sadan's and Afrah's story. However, we've been back at it and as we now seen, the plot is back to being its usual engaging self, and yes, with an added twist this time.
There is no one who combines emotions and witty dialogues as brilliantly as writer Faiza Iftikhar, because no matter how tense the situations get in Mian Jee's house, there is bound to happen something within a few minutes that'll have you laughing and clutching your bellies at the same time.
So what took place in the latest episode which is now double and shown twice a week ? Well read along to find out in case you missed it .
Read : In Review: Tongue in cheek dialogues make Aangan a delight to watch
Sadan (Arslan Faisal) and Afrah are now married with the consent of his uncles and father Sajjad (Noor ul Hassan) who decided at the end to support his son because he was at an age where he could do anything and the sensible thing was to be there for him. But with Sadan not willing to hide Afrah from his family, he takes her home and within seconds all hell breaks loose!
Hajra (Irsa Ghazal) never really liked Afrah and now she hates her even more. A hysterical Hajra is difficult to console as even Mian Jee is furious with his grandson's actions but upon finding out how his sons helped him without informing the elders of the family he is entirely heart broken .
Now if that saga was not enough, we also discovered that the decent and humble Asim (Hassan Ahmed) had re-married without telling anyone except for Zahid (Paras Masroor) to an actress whom he has kept away in an apartment but with Laila (Iffat Omar) and Rubina (Uzma Khan) fixed on the fact that Zahid was having an affair they both come knocking on Haseena's door to confront her.
The recent episodes have been quite entertaining and to be honest, we are glad to see Aangan move at such a speedy and interesting pace, being back to its usual self.
After a lot of fight and abuses, Laila has finally discovered the it was Asim who has remarried and not Zahid! And now, we just cannot wait to find out what provoked the decent Asim into a second marriage and how Laila is going to handle everything else.
Directed by Qasim Ali Mureed, Aangan doesn't disappoint. This week's episodes were so well executed that we stayed glued to our screen till the end.
Noor ul Hassan, Uzma Khan, Iffat Omar, Hassan Ahmed, Irsa Ghazal and Paras Masroor make Aangan worth watching every week and we're back to tuning in to our favorite drama, every Monday and Tuesday night at 9 pm only on ARY Digital.