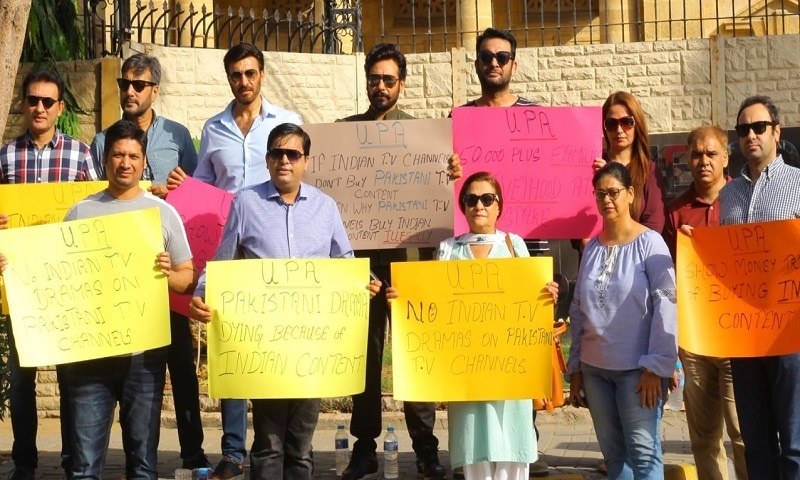 The United Producer's Association has asked the court to limit airtime for Indian dramas on Pakistani TV channels
There is a perpetual ban in India over Pakistani artists and content from our country. Our films aren't showcased in India and our dramas, well, even though top quality, don't make the cut across the border. However, things are entirely different in Pakistan. Because we're still in the revival stages of our cinema, our cinema houses cannot thrive without foreign content and so we screen Indian films with abundance.
However, we do have a strong drama industry and airing of foreign content on television can be brought down to a minimum. Supporting the same stance, the United Producer's Association including top guns from the industry, Faysal Qureshi, Aijaz Aslam, Adnan Siddiqui, Wajahat Rauf and others protested to the CJP to bring down the ratio of airing foreign content down to 10% or less.
As per the law, only 10% of airtime is allowed for foreign content, while the maximum limit for Indian content to air on local channels is 6% in 24 hours. However, a number of channels are breaking the law and airing more than the prescribed percentage of foreign content, to which the association protested.
According to demands put forward by UPA, no foreign content should be aired between the prime time on television front, i.e. 7pm to 10pm.
Only 6% Indian content to air on television: PEMRA
Actors/Producers protesting, holding the front put forward a straight question, "Indian content does not create any local jobs or pay taxes for television while productions within the country were required to pay direct and indirect taxes along with creating job for a number of local talent," and therefore they rightfully demanded the air time of Indian content be brought down to 10% as per PEMRA rules.
In 2016, PEMRA had stated that strict action would be taken against channels not following the set limit of foreign content on television. However, no action have been taken on the ruling and channels continue to air more than the prescribed percentage of foreign content, especially in prime time. Hence, the protest.