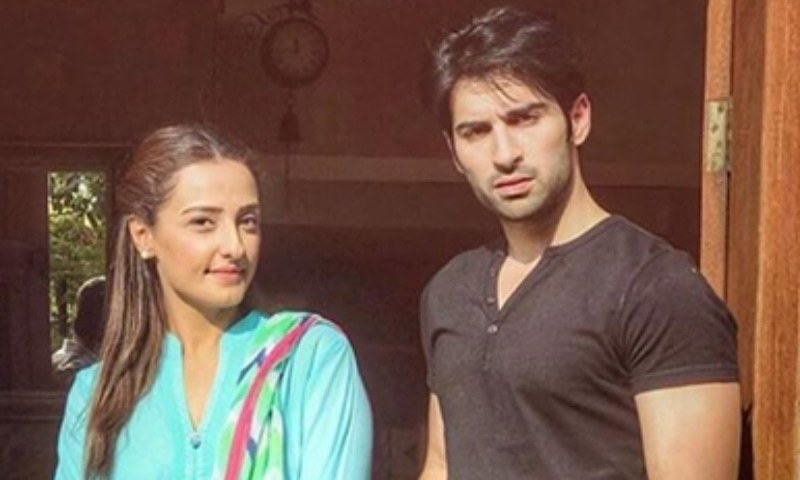 As soon as Tuesday arrives we just know that we have to wrap everything up fast so we can sit in front of the television with the entire family and watch the drama Silsilay which has a ensemble cast where everyone is doing a fantastic job especially Muneeb Butt as Shahzaib who matures with each of his performances.
So with Abiha (Momal Sheikh) in love with Shahzaib but with him engaged to some one else, last night we got a feeling that perhaps Shahzaib too is realizing that Abiha could be a lot more than just a childhood friend to him as well.
Written by Samra Bukhari, Silsilay's is a story that grips you with its beauty. Abiha and Shahzaib's is a pair which we have loved right from the beginning and have been waiting quite patiently to see romance blossom between the two. Shahzaib has been Abiha's rock since day one and now with Ujala (Sara Bhatti) creating havoc in their lives we are glad to see Shahzaib helping Abiha out as much as he can.
So what else took place in last nights episode? Well let us fill you in.
Read : In Review: Silsilay continues to remain on top of our must watch list
Abiha now has a job but that has not gone down well with her Khala (Seemi Raheal) who is furious that she wants to work especially with her needs being taken care of. Khala has also realized that Ujala's presence in her house has ruined their peace and so she decides to have a word with Jawad (Junaid Khan). However, it seems Jawad is so smitten by Ujala that it will be a while before he realizes what a nuisance she really is.
On the other hand Shahzaid who spends half of his day with Abiha is now telling his fiancé how works too much the entire day. We're hoping for a new twist to enter the play soon because of how Shahzaib is now falling towards Abiha.
Now where Abiha is working, right there Hira (Hiba Bukhari) is still at her father's (Mehmood Aslam) and is now discovering the truth about him. Quite hurt, Hira has finally realized why her mother (Shagufta Ejaz) never spoke about her father and how stupid she was to have suspected her mother of doing something wrong.
Read : In Review : Silsilay gains your attention due to its simple yet engaging story
Also Hira getting slapped from her father for going through his cupboard, next week's episode will surely have a lot going in it and will be one not to be missed at any cost.
Talking about the performances in Silsilay, the truth is that everyone has gotten in to the skin of their character so well that now it seems that these are no longer fictional characters but people we know and since the chemistry between Junaid, Hiba, Momal and Muneeb is so good, watching the drama has become an amazing treat.
So a drama worth one's time don't forget to tune in to Silsilay every Tuesday night at 8 pm only on Geo TV.