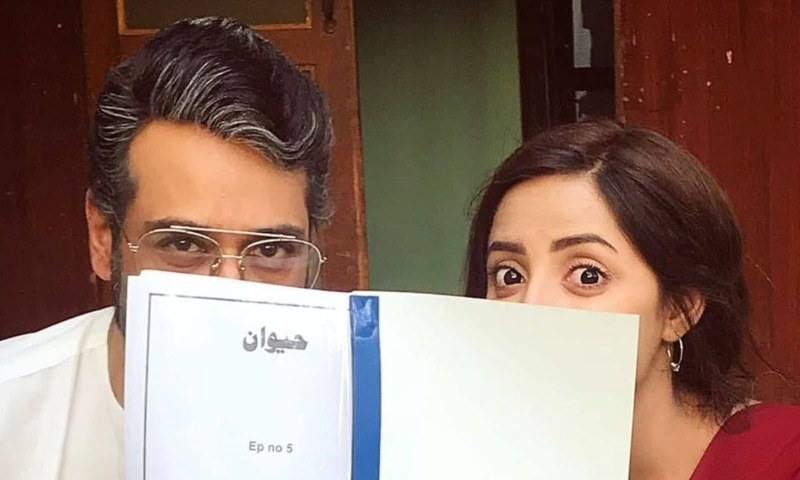 Based on a social taboo, Sanam is pretty excited for the upcoming play where she plays a girl called Momina
Pakistan drama industry is blooming these days all thanks to wonderful directors, script writers, actors and production houses owing up to take challenges and explore all there is to entertainment and social awareness through drama.
Taking up the same challenge, the very talented Sanam Chaudhry and the handsome Faysal Qureshi are currently busy shooting for their upcoming project, Haiwaan.
With us in love with plays and wanting to know more about Haiwaan we got in touch with Sanam during her busy schedule and this is what she shared with us,
"The play is being produced by Abdullah Seja ( iDream Production ) for ARY Digital and it has been written by Sara Sadain Syed."
Read : Sanam Chauhdry to be seen with Danish Taimoor once again in her next project!
Not wanting to reveal much, Sanam hinted that Haiwaan will be based on a social taboo.
"On behalf of my character called Momina I want to tell my fans that they need to beware while watching Haiwaan as I guarantee you that there wont be a single dry eye once the drama goes on air."
Directed by Mazhar Moin, Haiwaan will also star Wahaj Ali, Sawera Nadeem , Rashid Farooqui and Iffat Umer to name a few.
]Sanam is super excited to work with Faysal Qureshi and best friend Wahaj for the first time. Talking about the project she added, "I am working super hard and hope that all haiwaans turn in to humans after getting a valuable lesson from the story we are about to bring."
With the first spell done and the second all set to begin during Ramzan, we would like to wish Sanam and Faysal all the best for Haiwaan.