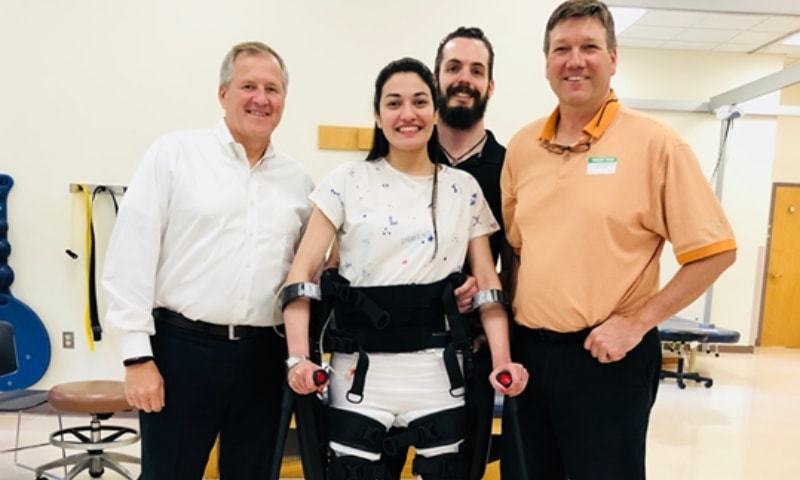 The wheelchair bound celebrity shared the news with all and we couldn't be happier for her

One of the most inspiring personalities in Pakistan without any doubts has to be Muniba Mazari who despite having lost control of both her legs in a car accident at the age of 21 has not let that dampen her spirits and has achieved a lot more than any woman with walking two legs has.
Muniba Mazari is a writer, artist, singer, an activist, motivational speaker, a UN goodwill ambassador and is also one of the two Pakistanis to be part of BBC's list of inspirational women in 2015. But the reason why we are talking about Muniba today is because we just came across a post of hers on her social media account where she shared the picture of her standing with her two brothers and beaming with joy!
Now this indeed is big news for her as well as for everyone who adores Muniba because for the past ten years Muniba has been confined to a wheel chair. And now, thanks to Rewalk Robotics, which is an innovative medical device company that designs, develops and commercializes powered devices for persons with lower limb disability, this historic moment was made possible for her. Celebrating her joy, Muniba wrote,
"Big day for us siblings, standing tall after ten years."
Read : Azadi Special: Muniba Mazari tells us how to live a good life
It seems that we are not the only ones quite excited for Muniba as even Nadia Jamil tweeted about how happy she was for her,
With her fans sending her good wishes, HIP too would like to congratulate Muniba on reaching such a milestone in her life and we hope that her journey from now onwards is nothing but pure bliss.